Wine as an asset
A stable investment you can count on
With resilience and returns, fine wine is your smartest investment yet.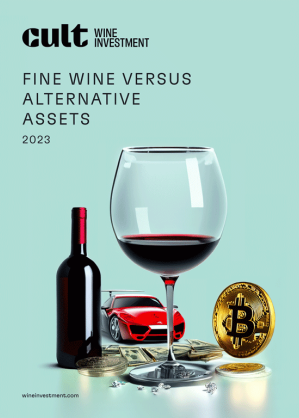 Fine Wine Versus Alternative Assets Report

Discover wine's unmatched value in the world of alternative assets. Understand fine wine's impressive returns, stable market performance, and protection against inflation. Improve your investment approach with this timeless asset.

Proven track record
The last 30 years are proof that fine wine is one of the best performing assets, with a compound annual growth rate of 10%*.
* Liv-Ex investables index 1988
Uncorrelated to the market
In times of market turmoil, such as the 2008 crisis or the coronavirus pandemic, investments in fine wine are fairly insensitive to the macro economic context.
It's a tangible asset
Wine has intrinsic value that makes it suitable for preserving wealth as a medium to long-term investment.
Increasing demand
Globally, due to new emerging economies, people drink more fine wine than ever before. Combined with reduced supply, this makes wine prices go up.
Limited supply
Fine wine production is controlled by law. What's more, production methods, weather conditions and geographic constraints also influence quantities. Together, these parameters contribute to the scarcity of fine wine.
Our performance over time
Source: Pricing data from Liv-ex, Cult Wines. Analysis by Cult Wines.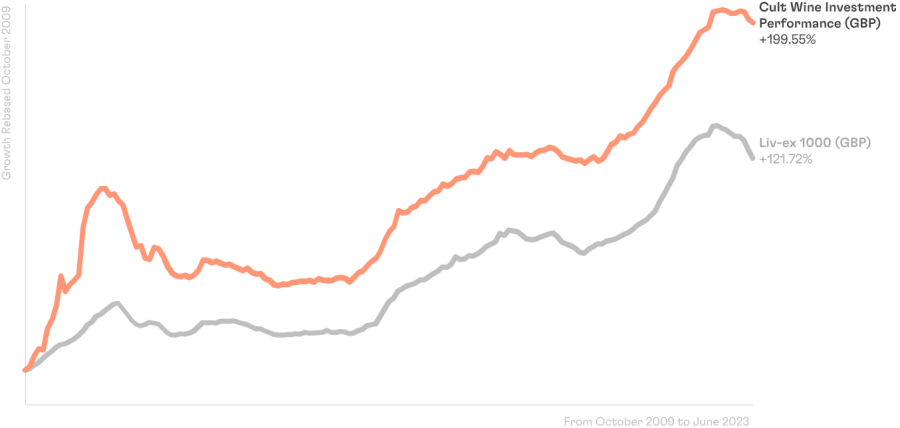 Since its inception in October 2009, the Cult Wine Investment Performance has been +199.55% (+8.36% CAGR) and -2.20% in Q2 2023. The Cult Wine Investment Performance tracks the overall performance of our assets under management. Each component unit is rebased on entry at the purchase price and valued each month based on the Liv-ex market price at the end of each month.
The Liv-ex Fine Wine 1000 contains 1000 wines from the latest ten vintages, representing wine regions worldwide. Bordeaux (540), Burgundy (150), Champagne (50), Rhone (100), Italy (100) and the rest of the world (60).
What drives fine wine performance?
Every vintage is limited to a certain number of bottles due to geographical constraints, weather conditions and production methods.
Wine is consumed on a growing worldwide scale. This makes it grow scarce.
3

Increasing desirability
The more people drink wine, the rarer it gets, and the more desirable fine wine becomes.
4

Quality improves with time
When stored properly, wine appreciates with age. This makes it great for medium to long-term investment.
Wine scores, as determined by expert wine critics, can influence the market perception of wine.
Data-driven investment
To reach our investment goals, we identify wines with the best relative value and growth prospects. We do that by using proprietary AI-driven statistical models derived from millions of data points.


Wine. The Experience.
Fine wine is more than an alternative investment. It's an experience that will enrich your life.