Investment recommendation: Smith Haut Lafitte 2019 @ £350.00 per 6 (excluding fees).
Last month Liv-Ex, the International Fine Wine Exchange, published a detailed report on the performance of the Bordeaux 500 Index, the most comprehensive index for Bordeaux wines. The Index tracks the price movement of 500 of the leading wines (50 wines from their last 10 physical vintages) from this region. The Index is showing some green shoots of recovery but only 13 wines have risen year to date, from July 2019, of which 4 have gained more than 2% including Chateau Smith Haut Lafitte (SHL) which comfortably outperforms the rest of the market with the average year on return of 3.5% across the last 10 vintages.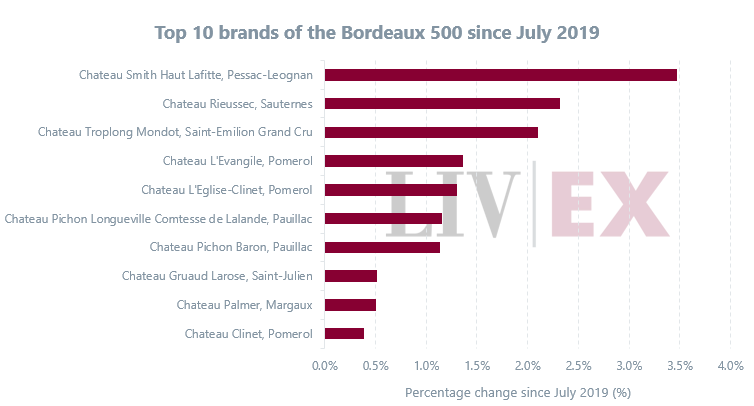 This is hardly a surprise as over the last 15 years there are few, if any estates in Bordeaux that have gone through as big a transformation as SHL. Under the stewardship of the Cathiard family, this estate is now established as one of the very finest in the Pessac-Léognan, and the quality of their 2019 offering once again reaffirms their status, as only two wines scored an even higher rating from The Wine Advocate, namely Haut Brion and La Mission Haut Brion, which both received 98-100 points. Both these wines trade in a much higher price bracket.
Continuing on from this phenomenal success, SHL was recently acclaimed as the world's 7th best vineyard by the wine publication "World's Best Vineyards" for its consumer experience including a stunning trail of artwork amid the vines and a luxury hotel & spa, Les Sources de Caudalie on site. SHL are also hugely passionate about biodiversity and sustainability. It is one of the pioneer Bordeaux estates making a massive effort to reduce its environmental footprint. They were asked to present their environmental protection initiatives at the United Nations Climate Changes Conference held in Paris in December 2015. An innovative, forward-thinking brand using techniques that are beneficial for the vines, the environment and the wine setting it apart from other Bordeaux estates.
"Since everything comes from the soil, we at Château Smith Haut Lafitte do our utmost to respect nature both in the vineyard (biodiversity) and the cellar"
On six occasions over the past nine vintages, Smith Haut Lafitte has been awarded by The Wine Advocate a higher bottle score than its barrel score, and on a further two it has reached the higher end of its barrel score. This shows the propensity of Smith Haut Lafitte to improve with time and to be underestimated in barrel, therefore the chances of The Wine Advocate awarding the 2019 vintage 100 points when bottled, from its current score of 96-98+ points, is high. It is worth noting that the 2009 vintage, which was upgraded from 96-98+ points to 100 points, is currently trading at £1,850, a hefty 164% premium to the price of the 2019 vintage.
Key Investment Points:
Chateau Smith Haut Lafitte 2019 at £700 per 12x75cl:

Best UK market price is £790 per 12x75cl (12.85% premium).

Offered at a 28.4% discount on the 2018 release price.
High scores from key leading critics:

96-98+ points by Lisa Perrotti-Brown at The Wine Advocate – "Remarkable energy and brightness, fantastically invigorating freshness, finishing long with mineral-tinged fireworks. Stunning!."
96-98 points by Neal Martin at Vinous – "Very elegant and refined, this is an outstanding success."
96-97 points by James Suckling – "This shows finesse with structure."
97 points by Jane Anson at Decanter.

World's 7th Best Vineyard.
Best performing Bordeaux Brand 2020.
Demonstrable track record of score upgrades from barrel to bottle.
Strong discounts to other recent prime vintages (prices per 12x75cl):

2019 at £700.
2018 at £850* (21% premium).
2016 at £836 (19% premium).
2015 at £860 (23% premium).
2010 at £1,105 (58% premium).
2009 at £1,850 (164% premium).
*Cheapest listing on Wine Searcher is from £977

Investment Analysis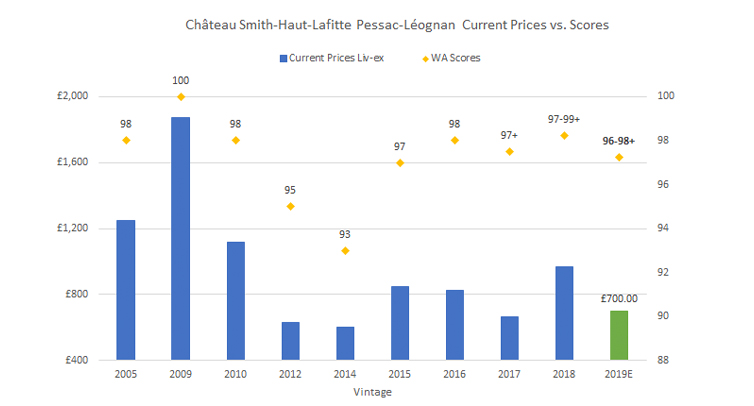 Our football field valuation is a tool used to evaluate 4 key criteria for the 2019 vintage investment:
How does the 2019 release price compare to the past four vintage releases: range from lowest to highest release price represented by left column

How does the 2019 release price look relative to other vintages in the market: range from lowest to highest vintage price represented by middle column

How significant is the discount to last year's 2018 En Primeur release: 10% to 30% discount range represented by far right column

How does the 2019 release price compare to CW fair value: our CW proprietary model generates a fair value displayed as the dotted line: the blue line is set as the CW offer price and the distance between be dotted line and the blue line represents the level of the buying opportunity: weak, fair or strong.