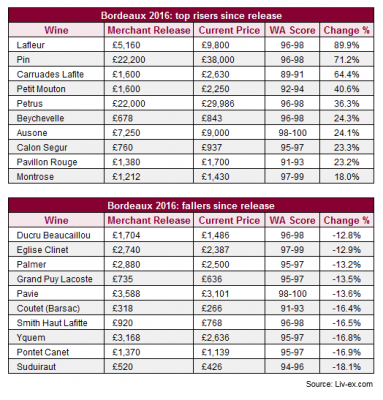 Bordeaux 2016 – a high-quality vintage born of the largest harvest in a decade – is set for release in the coming months. Despite what is now regarded as a mixed En Primeur campaign, the returns on some wines of the vintage has been remarkable.
While the vintage was largely seen as a win for the Left Bank, the two biggest risers come from the Right, according to Liv-ex. Chateau Lafleur has risen 89.9% to £9,800 a case, while Le Pin is up 71% to £38,000.
First Growth second labels have seen continued rises. Carruades de Lafite has risen 64% and Petit Mouton 40% to £2,630 and £2,250 respectively. Meanwhile, Petrus is up 36% to over £29,000 a dozen, Beychevelle, Ausone, Calon Segur and Pavillon Rouge are all up in the region of 20% and Montrose up 18% to £1,430.
However, as Liv-ex reports, the campaign has been dubbed one "for the few, not the many", as of the 50 wines represented by the Bordeaux 500 Index, only 11 have risen since release, one hasn't moved and 36 have dropped. As such, the average price increase is just 2.4% since release, meaning the vintage has underperformed against the market so far. The Bordeaux 500 Index is up 8.7% since April 2017.
Ducru Beaucaillou, Eglise Clinet, Palmer, Grand Puy Lacoste and Pavie have, for example, gone down 12-13% since release, while Smith Haut Lafitte has drifted 16.8% and Pontet-Canet – often listed by Liv-ex as one of the most over-priced wines En Primeur – is the worst performing red wine, down 16.9%.
Critics are set to make their in-bottle reviews in the coming months, as the wines become physical, so their scores could change the landscape considerably.