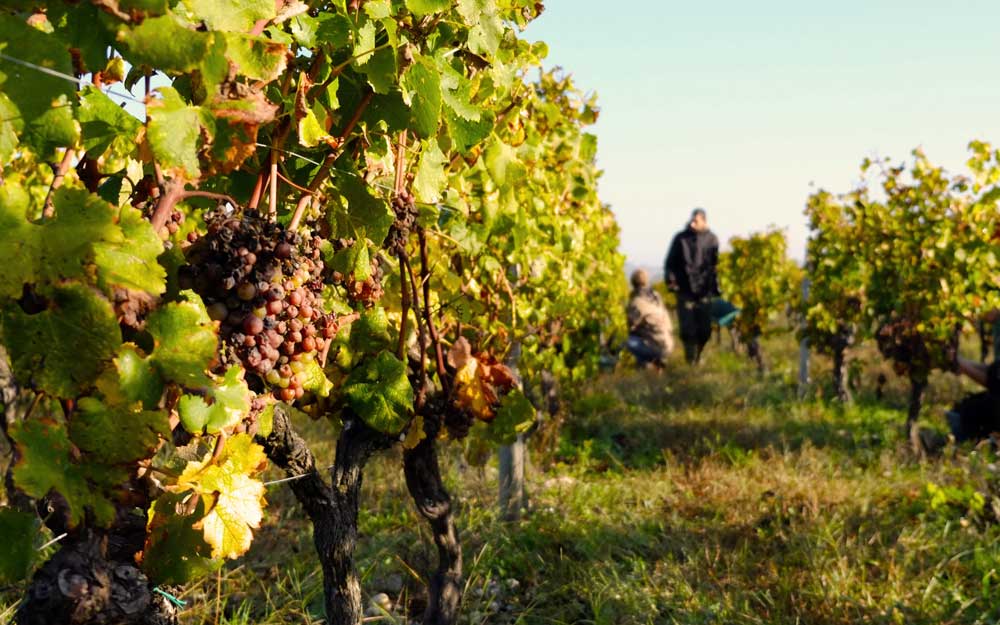 2019 was one of the sunniest vintages in Bordeaux's recent history. It saw an exceptionally warm dry early spring and long gorgeous summer with cool nights, which were vital for vines to retain freshness across all sub-regions.
This vintage too had its difficulties. Budding was early thanks to the record warm and sunny weather in February and March, but flowering was interrupted by unexpected fluctuation in temperature and periods of rain in April. Uneven flowering and millerandage were widespread, putting a cap on the yield of 2019.
May and June were marked by cool temperatures and concentrated rainfall, often in the form of thunderstorms. There were localised mildew outbreaks and hail in some parts of Bordeaux. On top of the cool stormy weather, coastal areas such as Entre-Deux-Mers experienced exceptionally cold mesoclimate brought by an unusual ocean current, which further impeded vine growth.
However, if there was not enough precipitation during this time to recharge the groundwater, the dry hot ripening season would have caused too much water stress for the vines to produce healthy fruits. All in all, 2019 was a vintage that balanced its own extremes.
The harvest season of 2019 was long and clear, with light rainfall toward the end. According to Dominique Arangoits, technical director of Cos d'Estournel, this rain during harvest was 'part of the miracle' of the vintage that helped retain freshness and quality of the 2019: 'If we didn't have the rain in September, the style of the wine could have been affected.'
Bordeaux Institute of Wine and Vine Science (ISVV) declared that four and a half, of the five pre-requisites it determines, constitute a great vintage were met in 2019. This means that the best wines from 2019 will be on a par with modern classics such as 2005, 2009 and 2010.
Winemakers and critics seem to agree with ISVV and see 2019 as a promising vintage. Decanter's Jane Anson likened 2019 to 2010 and 2016 in terms of depth of colour, extraction potential and concentration, whereas James Suckling was impressed by the sleek tannins and pure fruit character that were associated with great Bordeaux. Hubert de Bouard of Angélus said: 'The wines in 2019 are the perfect wines for greedy wine lovers – sexy and already really tasty.'
2019 continue the trend of increasing levels of alcohol. The alcohol has a potential to reach 13.7%, which is a 1% increase from 2014. But true to its self-balancing abilities, the acidity level for 2019 was high enough to offset alcohol level and maintain the perception of freshness and elegance.
Variety-wise, there is a consensus that 2019 was an all-around homogeneous vintage. Both Merlot and Cabernet Sauvignon reached optimal ripeness levels, though the berries may be smaller compared to recent vintages depending on the timing of harvest. Petit Verdot is known to be less resilient to water stress and consequently did not give an ideal crop in 2019.
As for whites, 2019 was an outstanding year for Sauvignon Blanc and Sémillon. Both varieties present refreshing notes of grapefruits, mango and lemon with exotic fruits in the background. The Sauternes also exhibit alluring aromas and concentration. However, many vineyards in the region unfortunately suffered losses from acidic rot in late spring and shriveled berries in summer. The yield of sweet Bordeaux 2019 was expected to be low.