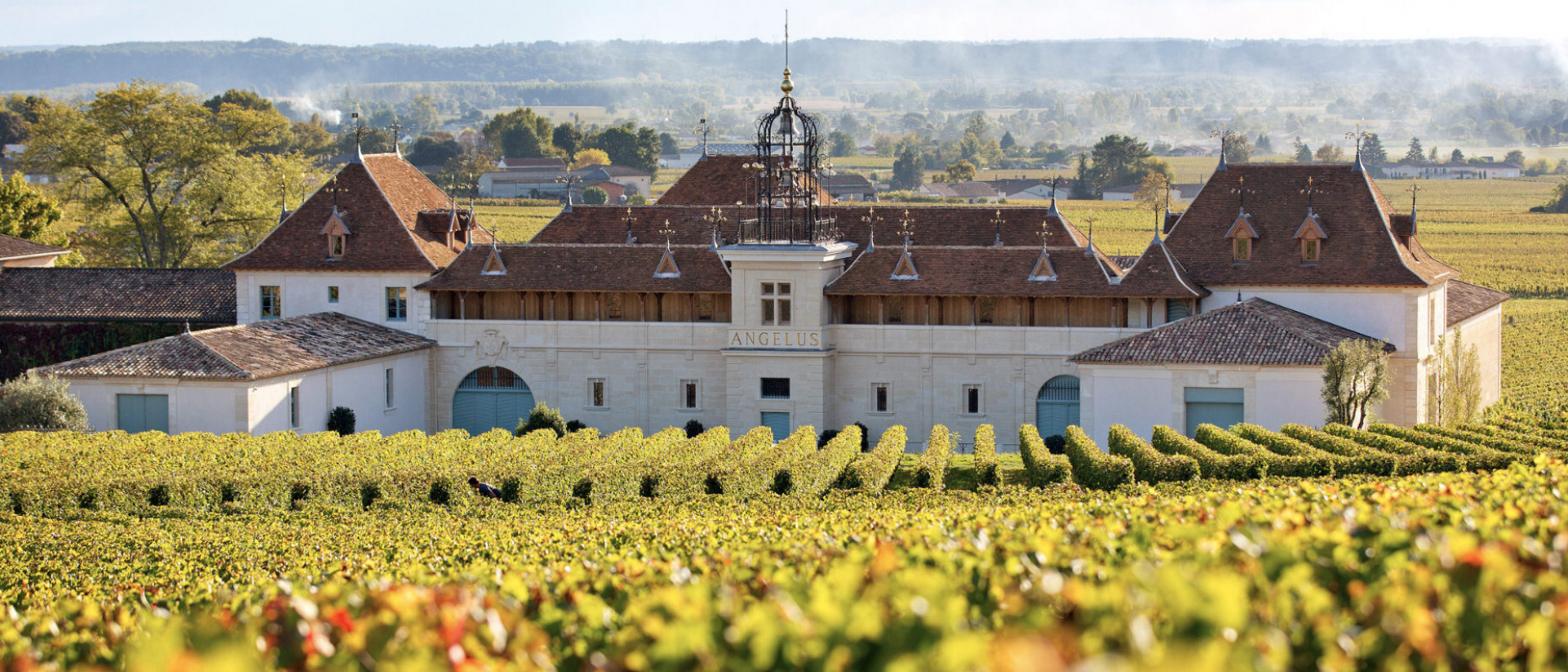 Producer profile
Boüard de Laforest family
Hubert de Boüard de Laforest
Annual Production (Grand Vin)
James Bond's drink of choice may be a martini, but when he's drinking wine, only Chateau Angélus will do, as seen in Daniel Craig's first outing as 007, Casino Royale.
Until the era of management under Hubert de Boüard de Laforest, Château Angélus could not really claim to be making as fine a wine as its terroir allowed. Forward-thinking Hubert set about making many changes, including the early adoption of open-topped vats for fermenting and barrel maturation - both techniques which were picked up on by Hubert in his trips to Burgundy. Another bold and progressive change was that of the name, which went from L'Angélus to Angélus, as Hubert observed this would lead the château to the top of alphabetical directories.
The attention to detail in the handling of Château Angélus, has led to an increase in quality, reflected most obviously in its promotion in the 2012 St Émilion Classification to Premier Grand Cru Classés A status, placing it in the top 4 châteaux in the region.
Château Angelus enjoyed valuable product placement in Casino Royale, in which Daniel Craig's 007 is seen enjoying a glass- a move which Hubert de Boüard told decanter.com led to a substantial sales spike. While prices for fine French wine are expected to stabilise in coming years, Angélus has been forecasted continued growth due to current brand strength following its St Émilion reclassification and thanks to strong sales to China- where the bell that appears on every bottle of the Grand Vin is considered a lucky symbol.
A triumphant comeback beginning in the 1980s, following the appointments of Hubert de Boüard and Michel Rolland, became a meteoric rise, with Angélus currently considered among the very top wine producers, not merely in St Émilion but in the entire Bordeaux region. Critic Neal Martin has praised the consistency in quality of wines produced and even in 2007, a washout year with many disappointing vintages, Angélus was delighting critics.
1990, 1995 and 2001 have all been singled out as 'outstanding' vintages and the 2009 vintage received a near perfect score of 99-points, demonstrating the upward trajectory in quality the wines of this château are enjoying and since then the 2015 vintage impressed with 97 points from Neal Martin.
Château Angélus has been owned by the same family for over a hundred years and to get a grasp of history of the estate, one must understand the Boüard de Laforest family- whose ancestry has been rooted in Bordeaux for more than 600 years. Following the acquisition of the estate in 1909, neighbouring vineyards were gradually assimilated from Clos D'Angélus in 1924, and again in 1969 when lands from Beauséjour-Bécot were added to the property, bringing the Angélus vinyward to a total of 23.4 hectares.
The arrival of newly-qualified oenologist Hubert de Boüard in 1976 was an important milestone. Having studied under the famed Emile Peynaud, he was able to bring his expertise to bear on the fortunes of the estate. Hubert assumed full control of the estate in 1985, but to this day he supplements his expertise through consultation with external oenologists on best practices for his vineyards, including Michel Rolland, who has a great influence here.
An investment like no other
We make investing in fine wine as effortless as drinking it - combining human expertise, data-driven tech and a love for fine wine.



Wine from this producer: Angelus