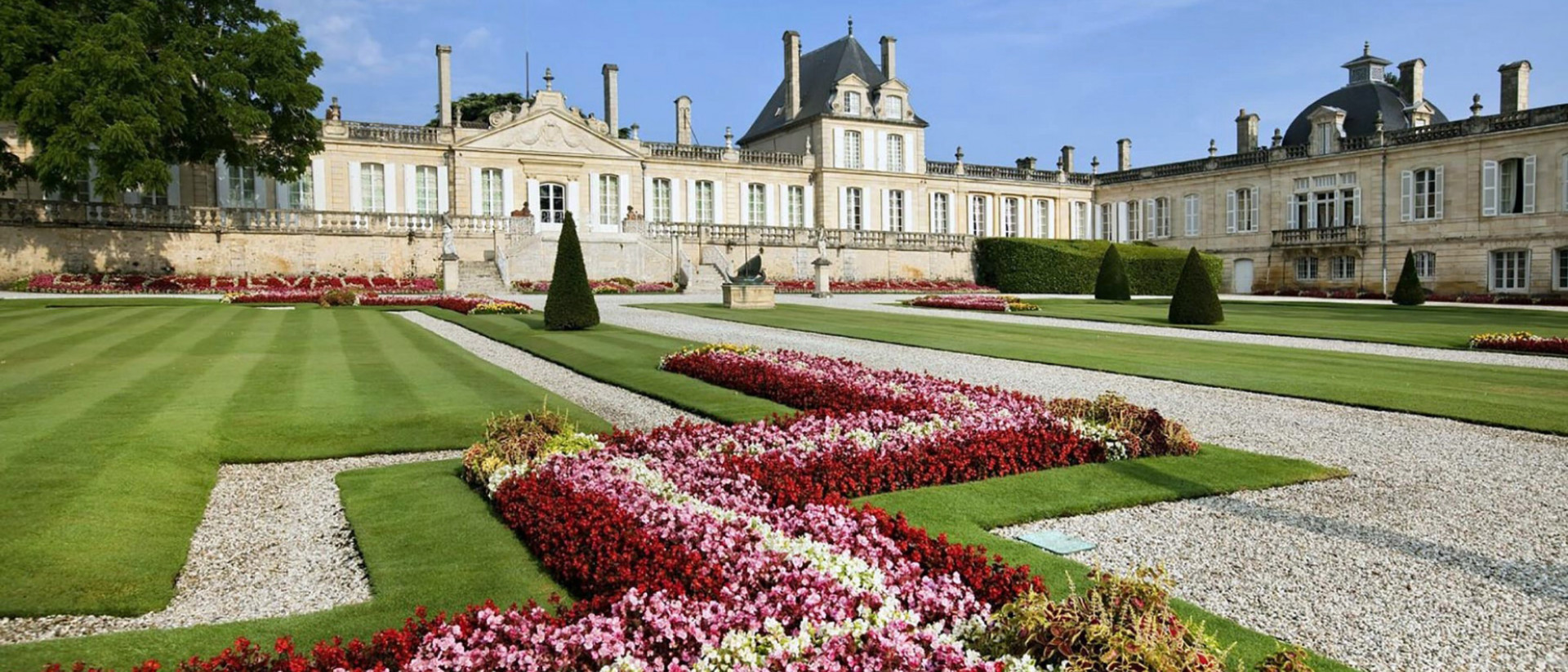 Producer profile
Annual Production (Grand Vin)
Quatrièmes Crus (Fourth-Growths)
The name Beychevelle originates from "Baisse Voile" or 'lower the sails' reflecting this estates history as a former property of Jean-Louis Nogaret de la Valette, Great Admiral of France.

The ownership of Beychevelle is a good representative of modern, internationally-focussed château ownership - corporations with the monetary might to plough investment into production processes as well as far reaching marketing to enable growth in non-native markets. Castel and Suntory are spurring on improvements for the Fourth-Growth producer, with the purchase acting as their first foray into Bordeaux's Grand Cru Classé territory. Castel have a good business record with China, having entered joint Sino-French venture with Changyu, one of China's oldest wineries. Nobutada Saji, CEO of Japan's fourth largest brewing firm Suntory, is regularly named as one of the most influential people in the world of fine wine and the brand's involvement in Beychevelle is promising- with a growth in interest from Asian markets as a result.
Beychevelle wines have received an average critic score of 91.7 points in the 10 years from 2008 to 2017, reflecting a marked improvement on reception for vintages from the 1970s and 1980s and the 2016 vintage was heralded as evidence of a return to form. Where there has been criticism directed at the wine, however, it has been in the form of accusations of inconsistency in terms of wine quality from year to year. The Grand Vin is approachable at an early age and does not require long periods of cellaring to reach its potential.
"...The palate is sensational: understated at first and bridled with ultra-fine tannin, it is a Beychevelle armed with a disarming sense of symmetry. It builds in the mouth towards a fabulously tensile finish that is so fresh and full of energy that the senses are almost overwhelmed...This is an electrifying 2016 from winemaker Philippe Blanc..."
Neal Martin
An estate boasting an especially impressive chateau, an old fortified manse that faces the Gironde, Beychevelle has its roots in ancient France and was once owned by Jean-Louis Nogaret de la Valette, Great Admiral of France in the late 1500s. This Duke became an admiral in the French Navy and ships that passed his château along the river were required to lower their sails as a mark of respect. This story is reflected in its emblem, a ship with a griffin figurehead and lowered sail- the griffin adding extra symbolism as the guardian of Dionysus' wine goblet in Greek mythology.
Much later it fell into the hands of the venerable Achille-Fould family, who oversaw its running throughout much of the 20th century though it was not known for wines of outstanding quality. Following 1984, when Grand Millésimes de France (GMF) bought a substantial stake in Beychevelle and later sold some of their shares to Japanese firm Suntory, investment significantly increased in the vinyards and an improvement in quality was the result. Ownership in 2017 leaves Grand Millesemes de France and its subsidaries own 89% and 11% with Societe Generale Bank.
An investment like no other
We make investing in fine wine as effortless as drinking it - combining human expertise, data-driven tech and a love for fine wine.



Wine from this producer: Beychevelle