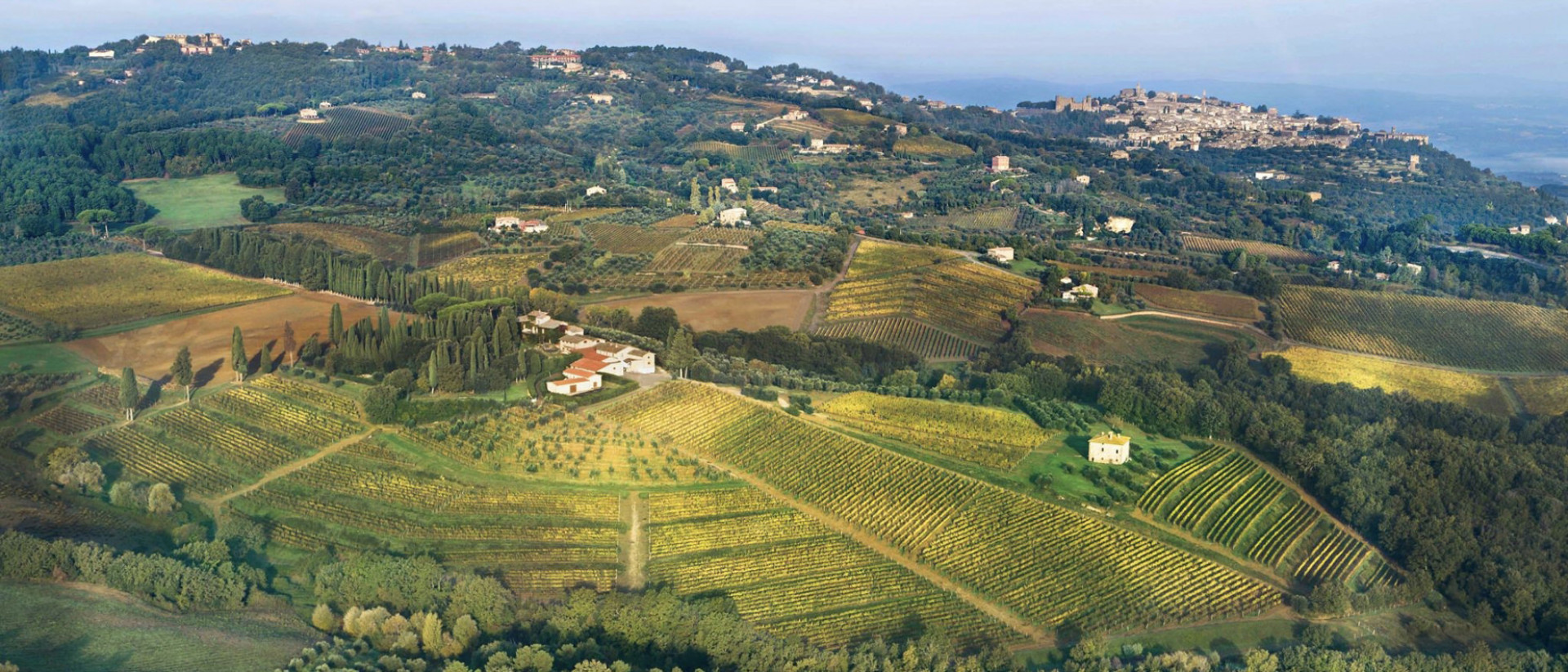 Producer profile
Annual Production (Grand Vin)
Biondi Santi is the only Italian estate to have continually produced Brunello di Montalcino since its invention in the late 1800s.

The Biondi Santi label came into being in the late 1800s, when Ferruccio Biondi Santi, having learned the winemaking craft from his father, isolated a distinctive clone of the Sangiovese grape (now known as the Sangiovese Grosso or BBS11 clone) and first produced the legendary Brunello di Montalcino, now one of Italy's most celebrated wines. This was nearly 100 years before it became accepted practice to make full-bodied wines solely from Sangiovese.
Such was the popularity of the wine that come the 1940s vintages risked becoming spoils of war. At the start of 1944 Ferruccio's son Tancredi, then in charge of the estate, took his son Franco into the cellars and in near total darkness walled up the room where they kept their old riservas. Fortunately, the front passed directly through their small hilltop town without incident.
Until the late 1960s, Biondi Santi's limited production was consumed almost exclusively in Italy, but in 1969 Italy's then-president Giuseppe Saragat served Biondi Santi's Brunello Riserva 1955 to Queen Elizabeth at the Italian Embassy. So well-received was the wine that the event generated articles on Brunello in both Italy and England, and Biondi Santi's market expanded considerably.
Until 2013, the estate was overseen by Franco, widely regarded as one of the greatest winemakers in Italy. By staying true to the established methods used by his forefathers, Franco continued creating exceptionally high-quality, long-aging and thoroughly traditional wines until his passing. The estate is now overseen by his son Jacapo.
For an estate as highly-regarded as Biondi Santi, it's fortunate that it is able to produce a relatively strong supply of wine: yields are fairly average and annual production generally exceeds 7,000 cases – not cult wine territory. However, demand is extremely high, particularly for the Brunello Montalcino Riserva, which consistently sells for upwards of £3,000 per case – often more depending on the vintage – and is only produced in the very best years.
The estate has found favour with those seeking a truly traditional wine – something Biondi Santi has been criticised for in the past – but its contrast with other, more contemporary Super Tuscans makes it refreshing, even in its long-established custom. The wines are particularly sought after for their quite astonishing aging potential – sometimes more than 100 years! Their quality, then, is extremely apparent, and interested buyers must be prepared to pay for it.
However, a more accessible route into the Biondi Santi club is through the Rossi di Montalcino. Made from younger vines and aged for fewer months, this wine is a worthy sibling to the Brunello, but without the aging potential, or indeed the price tag. Serious collectors would do well to consider this blend, particularly the 2007, as a brief taster of the excellent wines Biondi Santi has to offer.
Brunello di Montalcino Riserva
The estate's pièce de résistance, the award-winning Brunello is aged for 36 months and only made in exceptional years. Known for its longevity, this famed flavourful wine can be aged for more than 100 years, and demands careful decanting for optimal enjoyment.
Brunello di Montalcino Annata
Made from the estate's historically significant Sangiovese vineyards, the Annata is aged for 36 months in Slavonian oak casks, giving it a rich and flavoursome depth which can be enjoyed up to 40 years after bottling.
Rosso di Montalcino
Made from the younger Sangiovese Grosso vineyards, this warm ruby red wine is aged for 12 months in Slavonian oak casks and emerges fresh, fruity and ready to drink.
An investment like no other
We make investing in fine wine as effortless as drinking it - combining human expertise, data-driven tech and a love for fine wine.