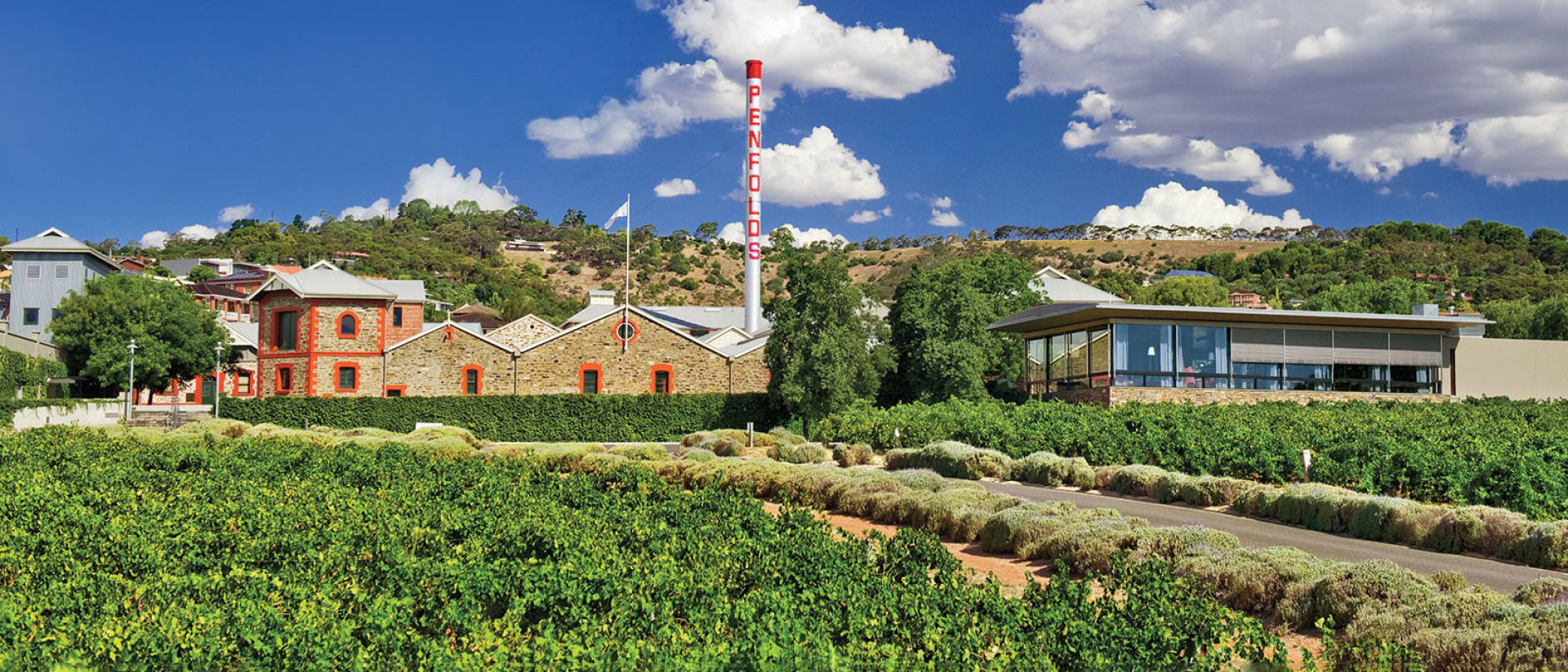 Producer profile
Annual Production (Grand Vin)
Estimated between 5,000 and 15,000 cases (Penfolds never release production figures)
In 2012 Penfolds released a limited edition run of '2004 Block 42' that was sold in special glass ampoules. The ampoules were designed and hand-blown by Australian glass artist Nick Mount. Huffington Post labeled these as 'the most expensive wine directly sold from a winery in the world' priced at US$168,000 a bottle.

The now-legendary Penfolds estate came to life in 1844, founded in Adelaide by the young Doctor Christopher Rawson Penfold (24) and his even younger wife Mary (15), who had emigrated to Australia from West Sussex.
Like many of his peers at the time, Dr Penfold believed greatly in the medicinal qualities of wine, and he set about creating the first Penfolds vineyard – the Magill Estate – at the foot of the Mount Lofty Ranges, using a collection of vine cuttings bought from the south of France. In 1845, the couple built a small stone cottage on this land, named The Grange.
Initially, the Penfolds produced fortified wines in the style of sherry and port, predominantly for Christopher's patients, but as tastes evolved and demand grew, the winery was expanded to produce Clarets and Rieslings as well.
Mary very ably took over the running of the winery after her husband's death in 1870, and following her retirement in 1884, the estate was passed to her daughter Georgina and son-in-law Thomas Hyland, and subsequently to their children.
A change in focus to table wines led to experiments by Penfolds' chief winemaker Max Schubert, who visited Europe at the end of the Second World War to learn about sherry production. However, his interest in fine wine was piqued after spending time in Bordeaux, and upon his return to Australia he created what is now Penfolds' – and Australia's – most famous wine, 'Grange Hermitage', nowadays known simply as 'Grange'. The 60s saw the estate introduce a series of prestigious wines – Bin 389, Bin 707, Bin 28 and Bin 128 – which went on to become highlights of the brand.
In 1976 – the same year that Max Schubert stepped down as chief winemaker – control of Penfolds was acquired by New South Wales-based brewery Tooth and Co. The company underwent a number of managerial changes, mergers and acquisitions until 2011, when its owners at the time, Foster's Group, became two separate companies, and Penfolds was taken on by the newly demerged wine operations, subsequently names Treasury Wine Estates.
Penfolds produces a wide range of wines, suiting most tastes and budgets, but its jewel in the crown is Grange, which commands consistently high critic praise (the last decade has seen scores between 97 and 100 over on eRobertParker.com) and equally high prices (although the estate is known for unveiling even higher-priced wines across the rest of its portfolio: an imperial bottle of 2010 Bin 170 Kalimna Shiraz came with a price tag of £34,300 in May 2014).
Grange is a reliable performer, and is a strong bet right now due to the imminent relaxation of duty & VAT in China for all Australian wine imports.
The 2013 stands out, however, having been awarded 100 points by both The Wine Advocate and Wine Spectator. It's more expensive than other recent Grange vintages, but when compared with top-scoring wines from other countries – Lafite, Pingus and Screaming Eagle, for example – it presents very good value and a handsome investment opportunity indeed.
Penfolds Grange
Widely considered one of Australia's 'First Growths' – and indeed the country's most collectible wine – Penfolds Grange, made predominantly from Syrah and a small percentage of Cabernet Sauvignon, has enjoyed a slew of extremely high-90s scores from critics (and the odd perfect 100 here and there), who praise it for its dark fruit and spice notes and full, rich, multi-layered palate.
An investment like no other
We make investing in fine wine as effortless as drinking it - combining human expertise, data-driven tech and a love for fine wine.



Wine from this producer: Penfolds Grange