The opportunity to taste wines with Domaine du Comte Liger-Belair is not one to be missed – thanks very much to Justerini & Brooks for the invitation.
This was my first time tasting these wines, so I didn't know what I should expect. I've had many conversations with various wine professionals as well as reading up on the subject, so I was as prepared as I could be, but the whole experience turned out to be much more than I could have hoped for.
The tasting was held at Justerini & Brooks' headquarters cellar at 61 St. James's Street, which was few degrees cooler than standard room temperature – perfect, in my opinion.
Louis-Michel is very open and comfortable talking about the world of wine and all that goes with it. One of his most striking traits is his (rightful) self-assurance and confidence of opinion, which in my experience is rarely encountered.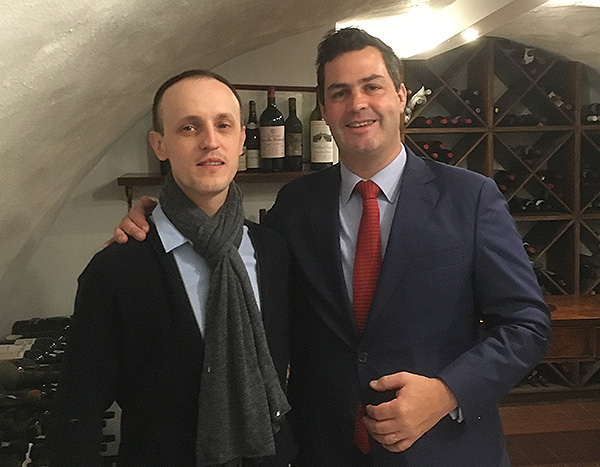 Lukasz (Left) with Louis-Michel (Right)
The main focus of the event was the domaine wines, but we were also treated to a tasting of the wine produced by Louis-Michel in Chile: Aristos, which means 'noble' or 'excellent' in Ancient Greek. If you haven't heard of Aristos, don't worry, I hadn't heard about it either until that moment, largely because of its minute quantities – around 30 barrels in total – although I'm pleased to reveal there will be a Pinot Noir in the near future, made from vines planted back in 2011.
Now, to the tastings!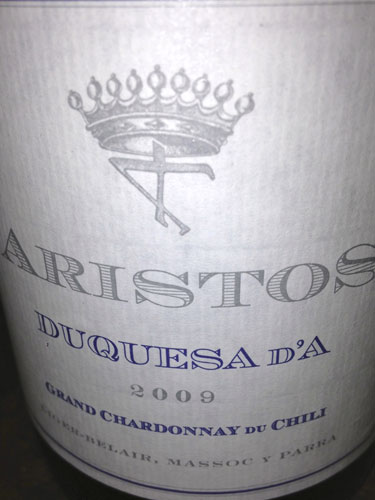 2009 Aristos, Duquesa, Chardonnay, Cachapoal, Chile
A wine showing a bright lemon yellow colour and aromatics of pineapple, grapefruit peel, ripe golden apple with crème Brulee, smoke, lanolin and butter. The palate is voluptuous with a warm tangy roundness, leading to full-on creaminess with just enough acidity to counterbalance the wine (most definitely a food wine).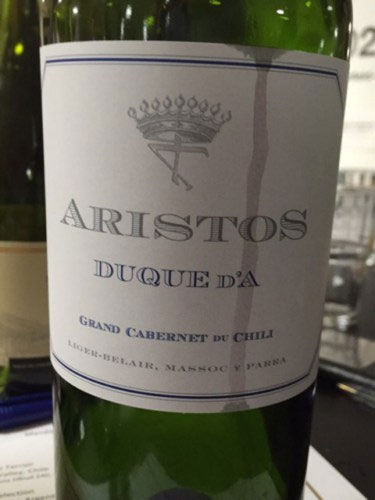 2010 Aristos, Duque, Cabernet Sauvignon, Cachapoal, Chile
The high elevation of the vineyard provides a great backbone of freshness to these wines – you can sense this straight away. Lots of ripe blackcurrant notes with dark cherry and mulberries with a hint of green bell pepper. Clove and nutmeg expand aromas further, with dark earth leading on to surprisingly fresh and bright ending.
Aristos is praised (deservedly) by various wine critics who award it high scores, and for me the label definitely represents a new wave of premium wines from Chile that can easily compete with their counterparts from around the world.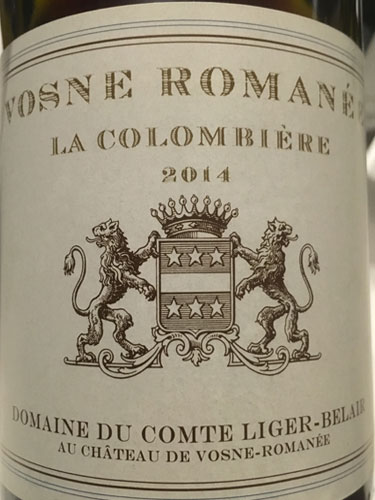 2014 Domaine du Comte Liger-Belair, Vosne-Romanée, La Colombier
A bright ruby core consistent to the rim with aromas of minerality, such as cracked rock, with cherry, raspberry and spiced red plum. The palate corresponds to the aromas, and the ending too leads to a delicious combination of cherry and minerals.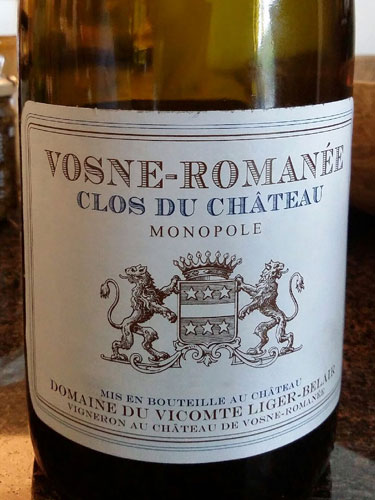 2014 Domaine du Comte Liger-Belair, Vosne-Romanée, Clos du Chateau, Monopole
A translucent light ruby which fades into a bright ruby rim. Fresh red fruit dominates with raspberry and cranberry follow by black plums and a hint of smokiness. The palate shows seamless harmony blending all the aromas and flavours, producing a wine with a pure, intense yet elegant ending.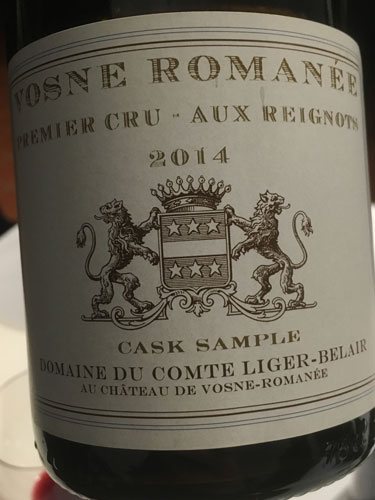 2014 Domaine du Comte Liger-Belair, Vosne-Romanée, Aux Regniots
Lively bright ruby with dry earth notes highlighted by red fruit mixed with spicy dry herbs. The palate is measured and probably the most reserved from all the Vosnée 2014 we have sampled, yet this wine has more spice than others do, with an earthy ending supported by the red fruit.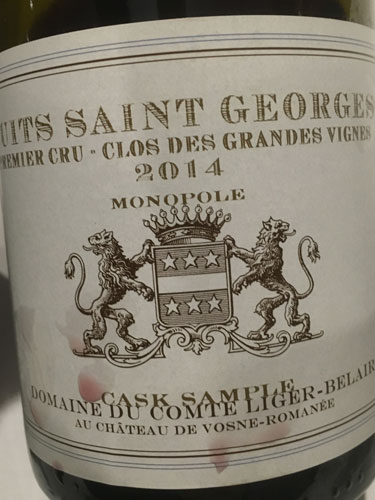 2014 Domaine du Comte Liger-Belair, Nuits St Georges, Clos des Grandes Vignes, 1er Cru
Medium-plus ruby core consistent to the rim (much darker than Vosnée). Fruit is intense with dark cherry and plums, violets and earthy spice. The palate shows much more volume and richness leading to a refreshing finish. A great flavour concentration, yet not as refined as Vosne.
We were then invited to lunch, where we had the opportunity to contrast a few older vintages of Nuits St Georges Aux Lavieres with food.
Creamed leeks and Portobello mushroom, parmesan cheese, fried quail's egg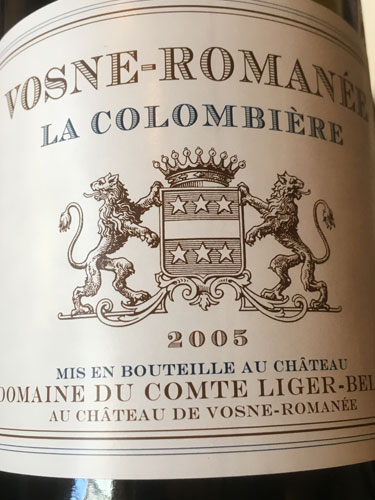 2005 Domaine du Comte Liger-Belair, Vosne-Romanée, La Colombier
The bright ruby core persist to the rim. An outstanding nose, with a combination of ripe red cherries and plums wrapped around dry herbs and earthiness. The palate is even better, with all the flavours in perfect sync. Aftertaste was just right. This is a wine that gives enormous pleasure with an excellent, long finish.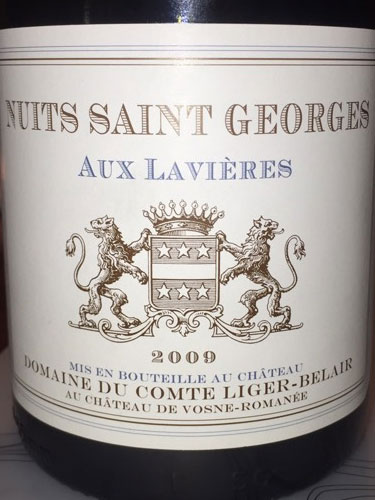 2009 Domaine du Comte Liger-Belair, Nuits St Georges, Aux Lavieres
The deep ruby colour is consistent to the rim with ripe flavours of dark plums and cherries highlighted by a hint of violets and dry herbs. The plate has volume with a density of ripe flavour that still was checked by refreshing acidity. However, it won't be a vintage that will age due to its low acidity (Luis-Michel pointed out it was lower in acidity than the memorably hot 2003).
Guinea fowl breast with parsley sauce, parsnip puree, and purple sprouting broccoli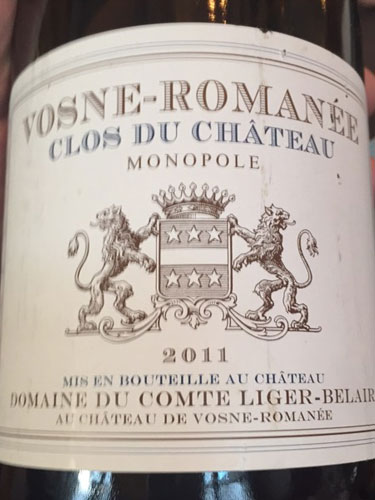 2011 Domaine du Comte Liger-Belair, Vosne-Romanée, Clos du Chateau, Monopole
A bright ruby core that fades to the violet rim. Great intensity of sour red berries with dry earthy spices and hints of rocky minerals. The palate is very pure and energetic, driving flavours of sour cherries and raspberry to a refreshing, lasting conclusion.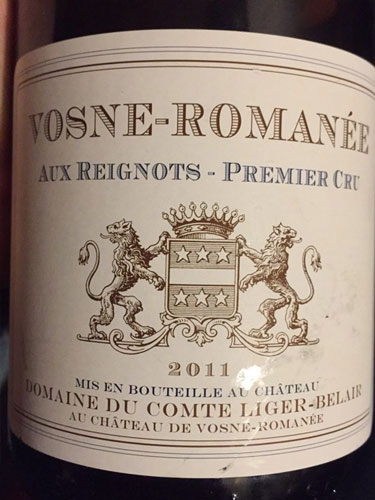 2011 Domaine du Comte Liger-Belair, Vosne-Romanée, Aux Reignots, 1er Cru
The core is pure ruby with a violet rim. Aromas of pomegranate mixed with red berries of the forest with a dark plum in the background. There is a hint of violets with a gun powder-like aroma. The palate is generous and airy with a silky, refreshing fruity structure with filigreed minerals. Great potential that will develop over time immeasurably.
Comte and Gruyere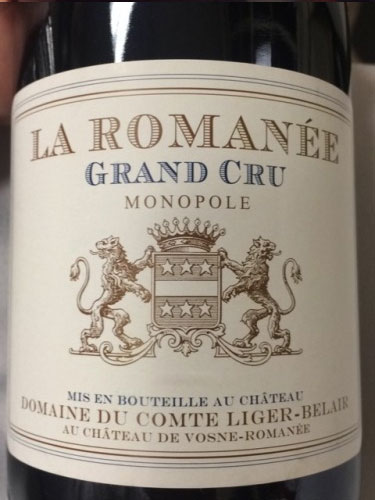 2007 Domaine du Comte Liger-Belair, La Romanée, Monopole
The translucent medium intense ruby core fades to an orange rim. This is what I refer to as a 'bouquet' of red and dark fruit infused with a hint of leafy/herbal notes. There is a lovely note of forest floor and violets – all the aromas are of exceptional clarity. The palate is delicate yet decisive, while its medium weight with purity of all the above aromatics lingers on the palate leading to a very tasty long finish. Very impressive for what is generally considered a lesser vintage.
I have to confess that I haven't tried experienced a Pinot Noir from Burgundy that has such a combination of singularity with clearly defined appellation differences. The difference between Vosne-Romanée and Nuits-St-Georges was rather exceptional. I have to congratulate to Louis-Michel for the quality and dedication he puts into his wines. Stunning.
Louis-Michel (who is both an oenologist and an agricultural engineer) picks grapes at their optimum ripeness with about 10 days of cold soak and 100% new oak. As such, his wines come across as incredibly pure and elegant and counterpoint in all the right places. This estate has a long history, but due to complicated inheritance law its wines are just now coming into their own. Enormous demand means you don't see them very often, but rest assured if you do, you should snap them up.
Let me leave you with the quote of Frank Muir, English comedy writer, radio and television personality:
"Strategy is buying a bottle of fine wine when you take a lady out for a dinner. Tactics are getting her drink it."