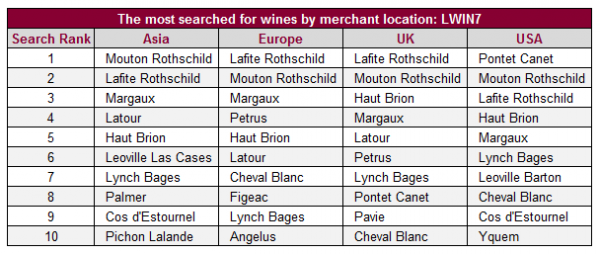 Liv-ex recently revealed the most searched for wines on its platform, based on visits to individual wine pages from January to July of this year. Now it's examined regional differences, which it's done by categorising Liv-ex members into four groups: Asia, Europe, UK and USA. The platform then looked at the most searched for wine (known by universal wine identifier codes called LWIN7s) and the most searched for wine and vintage (LWIN11s).
As the table above shows, First Growths dominate searches in the UK, Asia and Europe, while the US bucks the trend. Its most searched for wine is Pontet Canet, and Latour – frequently searched for in the other regions – doesn't make the top 10. Europe is the only region to include the Right Bank's Figeac and Angelus.
When top searches are ranked by wine and vintage, as below, Lafite Rothschild dominates the UK's top 10, while Europe's chart features seven wines from the Bordeaux 2015 vintage, which have been heavily traded since they became physical earlier this year.
In the US, however, merchants appear to pay more attention to wines that carry high scores from the Wine Advocate, such as the 100-point Canet 2009 and 2010.
Margaux 2015 is the only wine to feature in the searches of all four regions.