Domaine Faiveley truly has an offering for all tastes. Founded in 1825 by Pierre Faiveley, Domaine Faiveley is now in the hands of Erwan and Eve, the 7th generation of one of the largest and wealthiest landowners in Burgundy. With 115 hectares of vines, Domaine Faiveley boasts a staggering 12 grand crus across the Cote de Nuits and Cote de Beaune. These are complemented by a broad range of excellent premier cru and village-level wines in these two regions plus the Cote Chalonnaise.
Alongside diverse choice, Domaine Faiveley is really hitting its stride in terms of quality and consistency. Previously famous for their négociant operation, the arrival of new chief winemaker Jerome Flous in 2007 led to a huge emphasis on improving the Domaine wines. For this purpose, Faiveley completed construction of a new winery at its Nuits-St Georges location in 2018, allowing for greater control and precision.
'We visited the new cellar, which is quite stunning, and will be used for the fermentation of the top red wines. It's like a cathedral of wine and will be open for the 2018 vintage.' – Wine Anorak
The improvements are getting noticed by top critics and the wider market. In the Liv-ex 2020 Power 100 List, Domaine Faiveley is ranked 11th in among Burgundy producers and 39th overall, a 38-place jump from 77 in 2019.
However, the wines still come with huge price disparities to their similar-scoring appellation neighbours. In our recent Burgundy 2019 EP report, we placed Domaine Faiveley in our second tier producer category, which covers high quality producers across the region with relatively attractive Burgundy prices compared to some of the more widely recognized iconic and tier one names. Domaine Faiveley's deep line-up of wines should have something to pique everyone's interest at attractive price points!
Opinion of 2019 vintage
The new 2019 wines have been met with high praise, with several commentators noting the trend toward more delicate wines with a high level of finesse while still maintaining a tannic backbone.
Cult Wines' Head of Fine Wine Lukasz Kolodziejczyk stated: "From my tasting of the last five vintages, extraction seems to be on point supported by moderate oak and whole bunch usage to help to create authentic wines which live up to their billing."
Below are Lukasz's notes and scores on some of Faiveley's 2019 offerings:
Domaine Faiveley, Nuits St George, 1er Cru Les Damodes 2019
92-93pts
Lively and fragrant with red plum and raspberries highlighted by damp earth minerals. The palate is energetic, zesty and floral with a smoky mineral intensity.
Domaine Faiveley, Nuits St George, 1er Cru Les St Georges 2019
93+pts
Bright ruby with lovely spiced red plum and blueberries, fresh herbs and mineral earthy intensity. Dense and chewy with raspberries, meaty lively mineral finish.
Domaine Faiveley, Gevrey-Chambertin, 1er Cru Clos Les Issarts 'Monopole' 2019
93-94pts
A juicy, lifted and intense nose mixes mostly ripe red berries with wildflowers and peppers all underlined by mineral intensity. In the mouth, this wine is bold yet supple and spicy with a core of mineral freshness. Well worth adding to your cellar.
Domaine Faiveley, Gevrey-Chambertin, 1er Cru Combe aux Moines 2019
92-93pts
Moderate use of 30% new oak works nicely with bright blue and dark cherry aromas and hint of Gevrey undertones with minerals and crushed fresh flowers. The wine has a medium body - lean and spicy with a bright and lasting ending.
Domaine Faiveley, Gevrey-Chambertin, 1er Cru Lavaux St Jacques 2019
95pts
Lifted, aromatic and intense with sweet red cherries and raspberries, roses, minerals and smoke. Lean, pure and zesty palate brings a lovely intensity and mid-palate weight with an invigorating ending.
Domaine Faiveley, Gevrey-Chambertin, 1er Cru Cazetiers 2019
95-96pts
Beautifully intense aromas of sweet red cherries, smoke, dry earthiness, spices and flowers. The wine's tense, layered and savoury flavour ends with minerals and spiced raspberries. Great concentration and lovely depth.
Domaine Faiveley, Charmes-Chambertin, Grand Cru 2019
94+pts
Intensely ripe and forward aromas of redcurrants and wild strawberries with black cherries spiced by crushed red peppers, dry flowers and a lively mineral intensity. The palate is silky, fine and flowing with a refreshing aftertaste.
Domaine Faiveley, Latricières - Chambertin, Grand Cru 2019
96pts
Fragrant and intense, ripe red cherries and plum, citrus zest, smoky oak with an intense crushed-rock minerality. Lovely density and tension with chewy finely grained tannins and plenty of mineral freshness.
Domaine Faiveley, Mazis -Chambertin, Grand Cru 2019
95-96pts
Dark plum and spiced cherries with dry and fresh flowers, crushed herbs, warm vanilla and freshly turned earth. The palate is plush and silky with supple tannins, beautifully enhanced by lasting mineral freshness.
Domaine Faiveley, Chambertin Clos de Bèze, Grand Cru 2019
97pts
Forward and intense aromas of smoke and earth with spiced red plum, Assam tea and violets. The most complex wine of the group brings dense, richly layered and pure flavours with plenty of weight, especially in the mid-palate, followed by a sappy and invigorating ending.
Arbitrage Opportunities
Domaine Faiveley wines are a value play at its very best. Its 2018 Batard Montrachet Grand Cru formed the top performing wine (+89%) in 2020 among Cult Wines' recommendations from the 2018 EP campaign. Several other 2018 Domaine Faiveley wines delivered returns ranging from 15%-39% during a year which saw the wider Burgundy 150 index decline by 1.6%.
With an average five-year performance of +39% across their twelve grands crus, Domaine Faiveley still offers more potential. Its Mazis-Chambertin, for example, is currently nearly 75% cheaper than that of Domaine Dugat-Py's with similar scores. In our view, this price gap will likely close over time, creating an intriguing opportunity to realise significant price appreciation.
Below, we illustrate the price and score differential between Domaine Faiveley's offering and some of the higher price points within the respective grand cru site. This staggering disparity in price for similarly-scored wines runs throughout Domaine Faiveley's portfolio.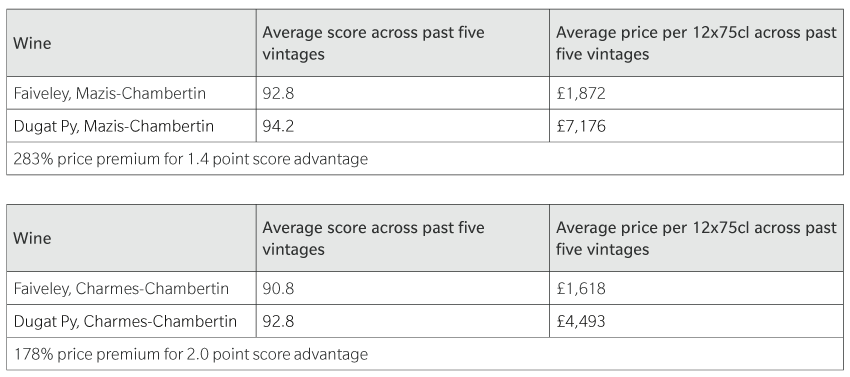 Needless to say, Cult Wines firmly believes in Domaine Faiveley's potential in the coming years. With our outlook for the wider Burgundy region more favourable as we head into 2021, we expect Domaine Faiveley to continue to produce lovely, interesting wines that should generate significant returns.
Domaine Faiveley Grand Cru parcels:
Chambertin-Clos de Bèze

Charmes-Chambertin

Clos de Vougeot

Echezeaux

Latricières-Chambertin

Musigny

Mazis-Chambertin

Mazoyeres-Chambertin

Corton Clos de Cortons (Monopole)

Corton Charlemagne

Batard- Montrachet

Bienvenues Batard-Montrachet