Before national lockdowns and travel restrictions tightened, our Head of Fine Wine Lukasz Kolodziejczyk managed to spend a few weeks in Burgundy last year and is one of a small group of professionals to have firsthand and on field experience of the vintage. Over the coming weeks we will be putting a spotlight on top Burgundy producers and highlights from Lukasz's trip to the Cote d'Or. This is the third profile of our Burgundy spotlight series featuring Domaine Hudelot-Noëllat.
Domaine Hudelot-Noëllat - Burgundy 2019 En Primeur Producer Profile
There is no hiding the fact that Domaine Hudelot-Noëllat is among the very best in Burgundy. Well-maintained old vines in several key appellations provide the raw material for excellence. The Domaine's focus on tradition and letting its top-notch terroir 'speak for itself' ensure the wines are always among the most exciting in every new Burgundy vintage.
Founded in 1962 by Alain Noëllat, Domaine Hudelot-Noëllat centres itself in the villages in the commune of Vosne Romanée in the Cote de Nuits. Since taking over in 2008 at the age of 20, Alain Noëllat's ambitious grandson Charles Van Canneyt has run the Domaine and kept true to his late grandfather's traditional winemaking style. Indigenous yeasts are used for fermentation, meaning each wine is a pure, natural expression of the terroir.
That said, the quality of the wines and the Domaine's global brand has leapt forward under the new stewardship and pulls in strong demand from North America and Asia. The production of wine from vineyards such as Richebourg and Romanee-St-Vivant mean that Hudelot-Noëllat shares borders with Burgundy heavyweights Domaine de la Romanee-Conti and Domaine Leroy, producing similar scores from numerous leading publications yet trading at a fraction of the price.
Wines
Hudelot-Noëllat's Romanee-St-Vivant, Les Beaumonts, Les Suchots and Malconsorts vines were all planted in 1920 so just passed the century mark. The Richebourg vines are more than 70 years old and produce some of the most highly regarded wines.
With the estate just covering roughly 10 hectares, the total production across all grand crus is ~600 cases per annum: ~115 cases of Richebourg; ~200 cases of Romanee-St-Vivant; and ~300 cases of Clos de Vougeot. Premier cru production is also limited and includes appellations Les Suchots, Les Malconsorts, Les Beaumonts, Les Charmes, Les Murges and Les Petits Vougeot. Annual production of Vosne Romanée Malconsorts is just 300 magnums while Nuits-Saint-Georges Les Murgers is roughly 330 cases.
Cult Wines' opinion
Charles explained to Cult Wines' Head of Fine Wine Lukasz Kolodziejczyk that the 2019 vintage produced grapes with a high phenolic maturity, meaning riper tannins in the skins, seeds and stems with less bitterness. This is balanced by a surprising degree of freshness despite the warm growing conditions.
In the winery, Charles kept extraction low, utilising pumping over during fermentation, which gave the wines a bright ruby colour and great fragrance. Lukasz noted that all the 2019 wines impressed but named Richebourg as his favourite. Below are Lukasz's full tasting notes and scores.
Domaine Alain Hudelot Noëllat, Chambolle- Musigny 2019
91pts
A bright ruby wine bursting with crunchy red berries, spiced plums, violets, cranberries with invigorating mineral freshness.
Domaine Alain Hudelot Noëllat, Vosne - Romanée 2019
90pts
Red cherry and spicy aromas with a fresh, mineral ending alongside lots of juicy intensity with great mid-palate density.
Domaine Alain Hudelot Noëllat, Nuits-St-Georges, 1er Cru Murgers 2019
93pts
Black and red cherry aromas alongside blueberries, violets, soil minerals and smoke. The mouth is dense and layered with spiced cherry and blueberry liquor nicely transitioning to a lovely spicy, fresh ending. An athletic and composed effort!
Domaine Alain Hudelot Noëllat, Vosne - Romanée 1er Cru Beaumont 2019
93-94pts
This premier cru is full of dark cherries and spiced plums with red currants seasoned by minerals and peppery freshness. Fresh, airy with lifted texture and lively aftertaste.
Domaine Alain Hudelot Noëllat, Vosne - Romanée 1er Cru Suchots 2019
94-95pts
Charles Van Canneyt mentioned he prefers his Suchots in hot years, and here we have a perfect example with a gorgeous, deep perfume of fruits and flowers enhanced by mineral and smoky notes. This is a dense and layered wine with lots of savoury freshness.
Domaine Alain Hudelot Noëllat, Vosne - Romanée 1er Cru Malconsorts 2019
94-95pts
Dense and supple, this wine mixes elements from Suchots and Beaumonts and offers a spicy core of black fruit, lavender and plum and flowers. The palate is rich and lasting with a creamy flavour and fantastic depth and freshness.
Domaine Alain Hudelot Noëllat, Clos Vougeot Grand Cru 2019
95pts
Here we have a perfumed and inviting nose of red berries, raspberries and blueberries with minerals and crushed flowers. A richly texture palate has plenty of volume and density supported by the backbone of mineral acidity.
Domaine Alain Hudelot Noëllat, Romanée- St-Vivant, Grand Cru 2019
97-98pts
Fragrant and explosive nose blends mostly peppery, earthy and floral spices with a full fruit spectrum ranging from red, blue to black. Surprisingly, the palate is lean and chiselled with a lasting spicy mineral intensity which brings great equilibrium.
Domaine Alain Hudelot Noëllat, Richebourg Grand Cru 2019
98-100pts
Unlike Romanee-St-Vivant, Richebourg offers fantastic contrast with its blueberries and red berries, flowers, Asian spices and wet soil minerals and a hint of warm oaky spices. Its denser and more structured than RSV with a tactile, long palate beautifully refreshed by mineral intensity. Great effort, I hope to taste it again in a couple of decades.
Below is a list of Hudelot Noëllat's wines as well as an analysis of the average prices and average total return of a select group since release.
5-year average prices and returns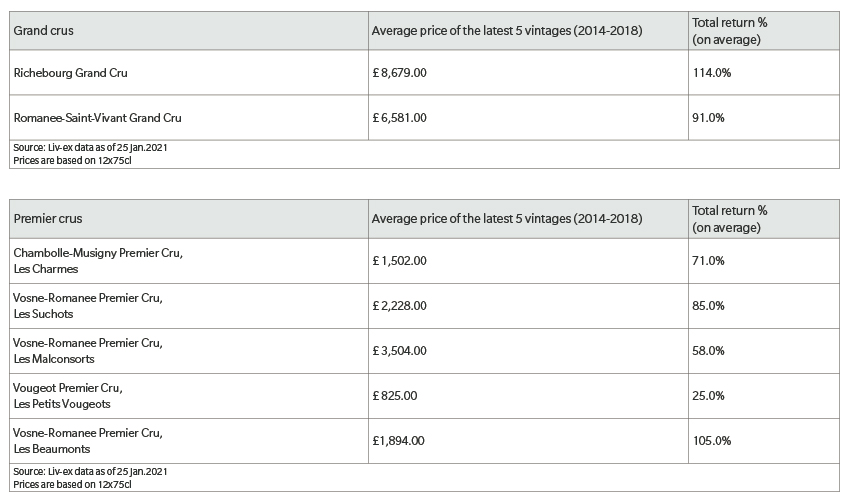 Hudelot Noëllat's wines
Village-level parcels
• Nuits-Saint-Georges Les Bas de Combes
• Vosne-Romanée
• Chambolle-Musigny
Premier cru parcels
• Vosne-Romanée Les Malconsorts
• Vosne-Romanée Les Suchots
• Vosne-Romanée Les Beaumonts
• Chambolle-Musigny Les Charmes
• Nuits-Saint-Georges Les Murgers
• Vougeot Les Petits Vougeot
Grand crus parcels
• Richebourg
• Clos de Vougeot