March 2021 Fine Wine Market Snapshot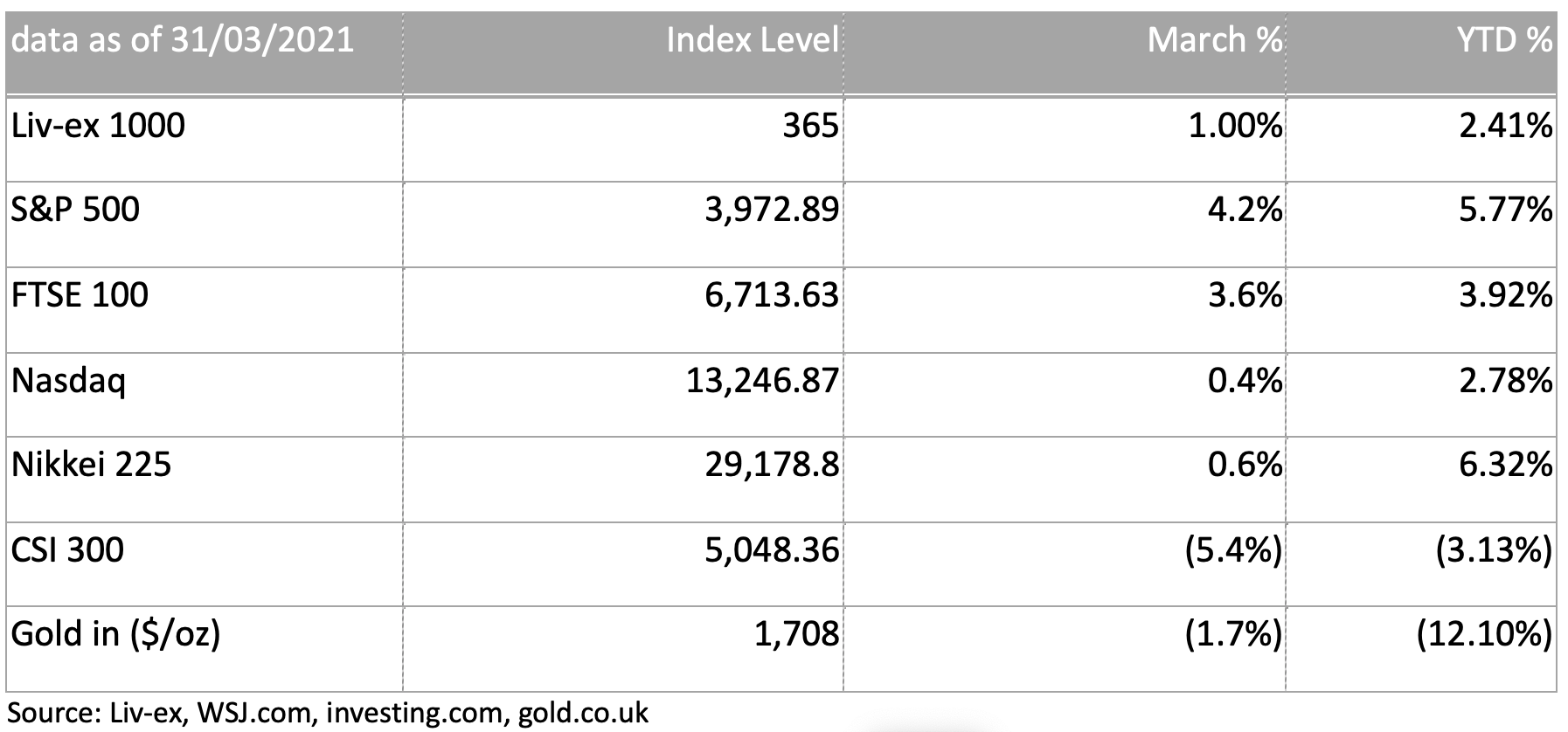 Fine wine, as measured by the Liv-ex 1000, posted a 1.00% return in March, rounding out a strong quarter to start the year. Alongside the ongoing vaccine rollouts, fine wine markets received a welcome boost when the US suspended the 25% tariff on many European wines for a four-month period as talks proceed on a possible more permanent solution.
Global equity markets were mixed with most developed market indices ending higher. Uncertainty regarding the inflation outlook weighed on sentiment and hurt the tech sector, which had outperformed in 2020 and early 2021. However, growing confidence in an economic recovery in the US buoyed sentiment and supported financial and industrial sectors, helping the S&P 500 reach new highs late in the month. Chinese equity markets underperformed most developed markets as the more entrenched economic recovery in the country raised expectations that authorities could soon tighten monetary and fiscal policy.
Core bond yields continued to rise over the month amid shifting inflation expectations. The 10-year US Treasury reached pre-pandemic levels last since in January 2020, ending March at 1.74%, over 30 basis points above where it started. Yields in Europe and the UK were more mixed but still ended March higher.
The US dollar rallied in March, ending higher against most developed and emerging market currencies. The improving growth outlook in the US and anticipation of the Biden administration's infrastructure spending plan boosted the greenback. Although weaker against the dollar, the British pound strengthened against the euro and many other global currencies on the back of better-than-expected growth data.
Fine wine regional breakdown
Italy rebounded in March with a 2.36% gain, pulling its year-to-date mark out of negative territory to a healthy 1.2% quarterly total. Italy's weaker January and February was likely down to temporary price consolidation following its strong 2020, so the recovery should not come as a surprise. Several Super Tuscan wines helped Italy's overall gains.
Rhone, Burgundy and Bordeaux all turned in strong returns as well. The suspension of US tariffs spurred demand for the regions' wines with Liv-ex reporting a spike in bids for Bordeaux in the wake of the announcement. By the end of March, Burgundy's trade share surpassed Bordeaux, as reported by Liv-ex, with US demand driving the uptick.
The Bordeaux market saw some prices for individual wines climb following critics' in-bottle scores of the 2018 vintage. Chateau Palmer was a notable riser during the month (40%) on the back of Vinous' Neal Martin scoring in 100 points compared to 95-98 points at its EP tasting.
Champagne's performance slowed following strong January and February while Rest of World declined slightly. Chinese tariffs on Australian wine has slowed trading activity of the country's wines.
Italy jumps in March after slow start to 2021
Liv-ex 1000 and regional indices' monthly and YTD returns