24 January 2023
Top Performing Wines 2022
We take a look back at some of 2022's top performing wines in the Cult Wines Global Index.
Burgundy and Champagne's dominance is best illustrated by a look at the top ten performing wines (all vintage average) in the Cult Wines Global Index in 2022. All ten came from these two red hot regions with three Grower Champagnes topping the list. Cedric Bouchard, Roses de Jeanne Cote de Val Vilaine posted an impressive 160.00% increase, followed by Cedric Bouchard, Roses de Jeanne Les Ursules Blanc de Noirs with 124.90% and then Egly-Ouriet, Brut Millesime Grand Cru rounded out the top three with 113.1%.
Napa Valley boasted the top two wines not from Burgundy and Champagne with Stag's Leap Wine Cellars SLV (+51.8%) and Caymus Cabernet Sauvignon (+46.5%). Other notable 2022 performers included a German Riesling (Egon Muller Scharzhofberger Riesling Kabinett, Mosel +44.2%) and a fantastic and excellent valued Barbaresco (Produttori del Barbaresco, Barbaresco, Ovello Riserva +41.7%).
Top 10 wines of 2022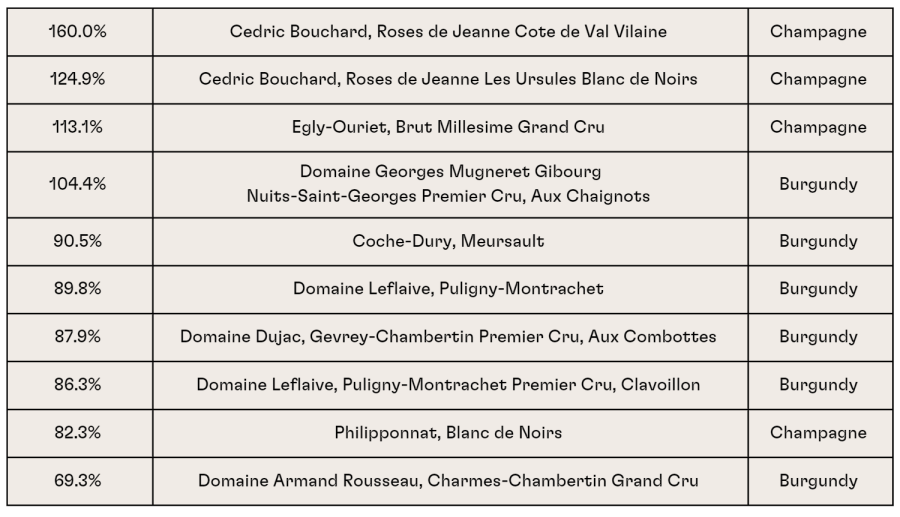 Source: Wine-Searcher as of 31 Dec 2022. Past performance is not a guarantee of future results.
---
The Cult Wines Global Index can be viewed on CultX.com, the next generation digital trading platform at CultX.com/indices.