Last year the Mommessin family, custodians of this domaine since 1932, decided it was the right time to sell and did so for a sum reported to be in excess of €250m. The buyer turned out to be the Artemis Group, who also own Chateau Latour, Ch. Grillet in Rhone, Eisle Vineyards in Napa (formerly Araujo) and Domaine d'Eugenie in Vosne-Romanee (formely Domaine Rene Engel), a company that is owned by France's third richest man; Francois Pinault.
Our research team has provided a background history of Clos de Tart , in-depth performance analysis and forward-looking insights into the development of the brand under the new ownership.
Our purchasing team have been working on acquiring a position in a range of vintages from this famous domaine, and our investment team have given this an overweight rating in light of the potential benefits from Artemis ownership. Not only do we expect the new ownership of the domaine to have a positive impact, but under the stewardship of highly skilled new winemaker Jacques Devauges, we fully expect the overall quality of the wines to increase too – their most recent offering, the 2016 vintage, was arguably the wine of the vintage and the finest Clos de Tart of modern times; Neal martin duly awarded the wine 97-99 pts stating – 'One of the finest wines from the Côte d'Or in 2016. It's that simple.'
Key Points
Owner: Artémis Group
Previous Owner: Mommesin Family
Grand Vin: Clos de Tart Grand Cru
Other wines: La Forge de Tart Premier Cru
AOC: Clos de Tart
Total Annual Production: 2,300-2,500 cases
Classification: Grand Cru since 1939
Vineyard Area: 7.5 Hectares
Main grape variety: Pinot Noir
Other four Grand Crus in Morey-Saint-Denis: Bonnes-Mares Clos de la Roche, Clos Saint-Denis, Clos des Lambrays
Other Grand Cru Monopoles in Burgundy: Comte Liger-Belair La Romanee; La Tache, Romanee-Conti (DRC); La Grande Rue Lamarche
Iconic Vintages: 2016, 2015, 2010, 2009, 2005, 2002, 1989, 1985, 1978, 1962, 1945
History
Founded in 1411, Clos de Tart had only three owners over nine centuries. As the largest Grand Cru classified property covering 7.53 hectares of vines in Burgundy, the Clos de Tart has never been parcelled out, a highlight that would be greatly appreciated by wine lovers and investors who seek for quality consistency and highly-controlled distribution strategy.
1141 - Cisterician nuns from the Tart Abbey acquired the vineyards (later became the Clos de Tart)
15th Century – The reconstruction of the walls around the vineyard was completed
1791 - The Clos de Tart was acquired by Nicolas-Joseph Marey, the sole owner of Romanee-St-Vivant at the time.
1932 - The Mommessin family purchased the Clos de Tart during the Great Depression
2017 - Artemis Group, a family-run investment firm founded by Francois Pinault, has acquired Clos de Tart from the Mommesin family
The Clos de Tart vineyard is wholly owned by Domaine Clos de Tart and therefore classified as a Monopole – a rare occurrence in Burgundy. Clos de Tart is the only Grand Cru Monopole that can be found in Morey-Saint-Denis AOC, Cote d' Nuits. Other iconic Monopoles include Romanee-Conti and La Tache from Domaine de la Romanee-Conti and La Romanee from Domaine du Comte Liger-Belair.
These benchmark wines enjoy a world-class reputation and are amongst the most revered red Burgundies produced. Clos de Tart sits firmly alongside them in terms of quality and heritage. Typically, bottles are labeled with the "monopole" for easy recognition.
Market & Vintage Performance
The cumulative returns for older vintages (2002 - 2006) of Clos de Tart have been very strong over the last few years. For example, outstanding 2002 and 2005 vintages have delivered absolute returns of 232.8% and 189.7% respectively over the past 10-years (Exhibit 1). This performance is indicative of the wider market and compared to Bordeaux, Burgundy has seen its overall performance soar to a record high levels. The Burgundy 150 (Liv-Ex's benchmark index) has consistently outperformed other markets for the past few years.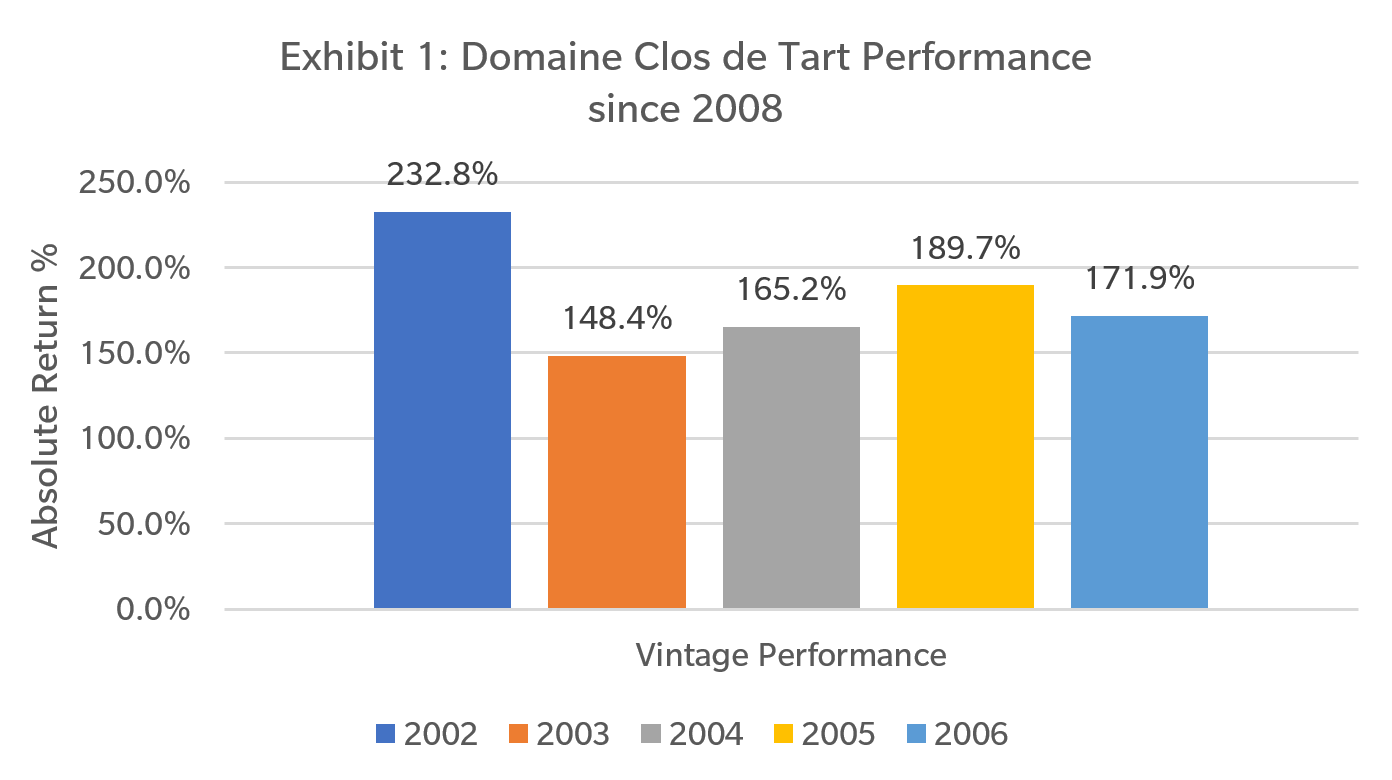 In the current market environment, it is prudent to adopt a targeted approach when selecting stocks.
Vineyards that can take advantage of higher classification, such as Grand Cru, and operational structure of monopoles have the potential to rise further in value. More importantly, it is not only the older vintages that are improving, modern vintages are gaining momentum as well and the growth is broad-based across the most recent vintages of Clos de Tart.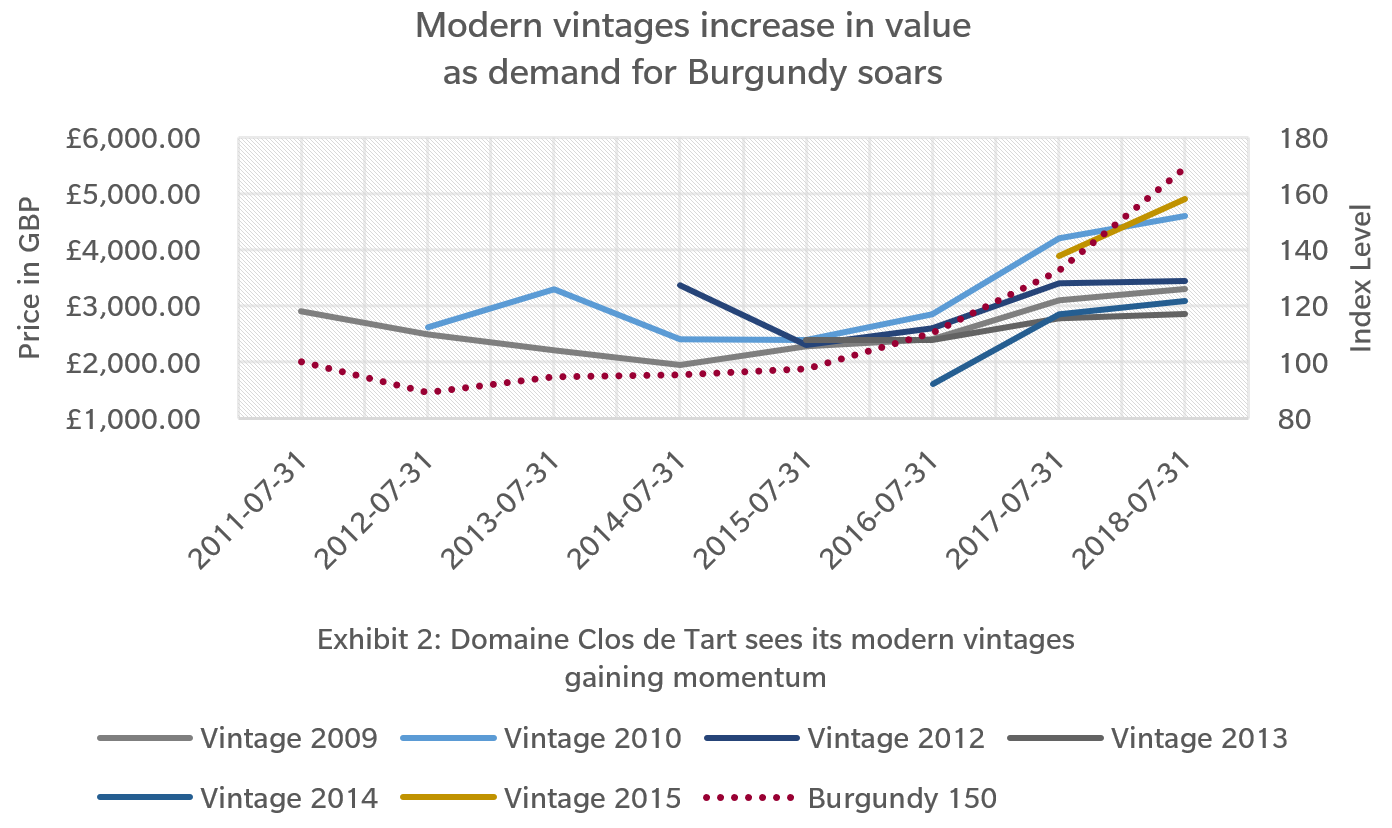 Development of Brand
Francois Pinault, the owner of Chateau Latour, acquired Clos de Tart through the Artemis Groupe which is his family-held investment company. The deal confirmation was announced in July 2017, however, the acquisition price remained unknown to the public. As the holding company of the world's largest luxury and retail giant, Artemis Groupe is the controlling shareholder of many leading luxury brands including Gucci, Yves Saint Laurent, Bottega Veneta, Balenciaga and Alexander McQueen. Artemis Group also owns Christies auction. With respect to its wine portfolio, Artemis Group has successfully acquired Chateau Latour, Eisele Vineyard, Domain Eugenie, and Chateau Grillet.
Price Expectation/Catalysts
Burgundy has convincingly outperformed Bordeaux and the rest of the world wine regions since 2016. (Exhibit 3) In a world where consistent return is still hard to come by; top-quality Burgundy wines offer a very impressive capital appreciation relative to other regions. Importantly, top Burgundy producers attract a certain calibre of wine consumer; the wine thinkers and deep-pocketed romantics. Exhibit 3 demonstrates the performance of two other prodigious Grand Cru monopoles; DRC's La-Tache and Comte Liger-Belair's La Romanée, which have been amongst the best performing wines from the region. Although, the Clos de Tart Index has performed well, we expect a positive uplift in light of the track record of the new owners.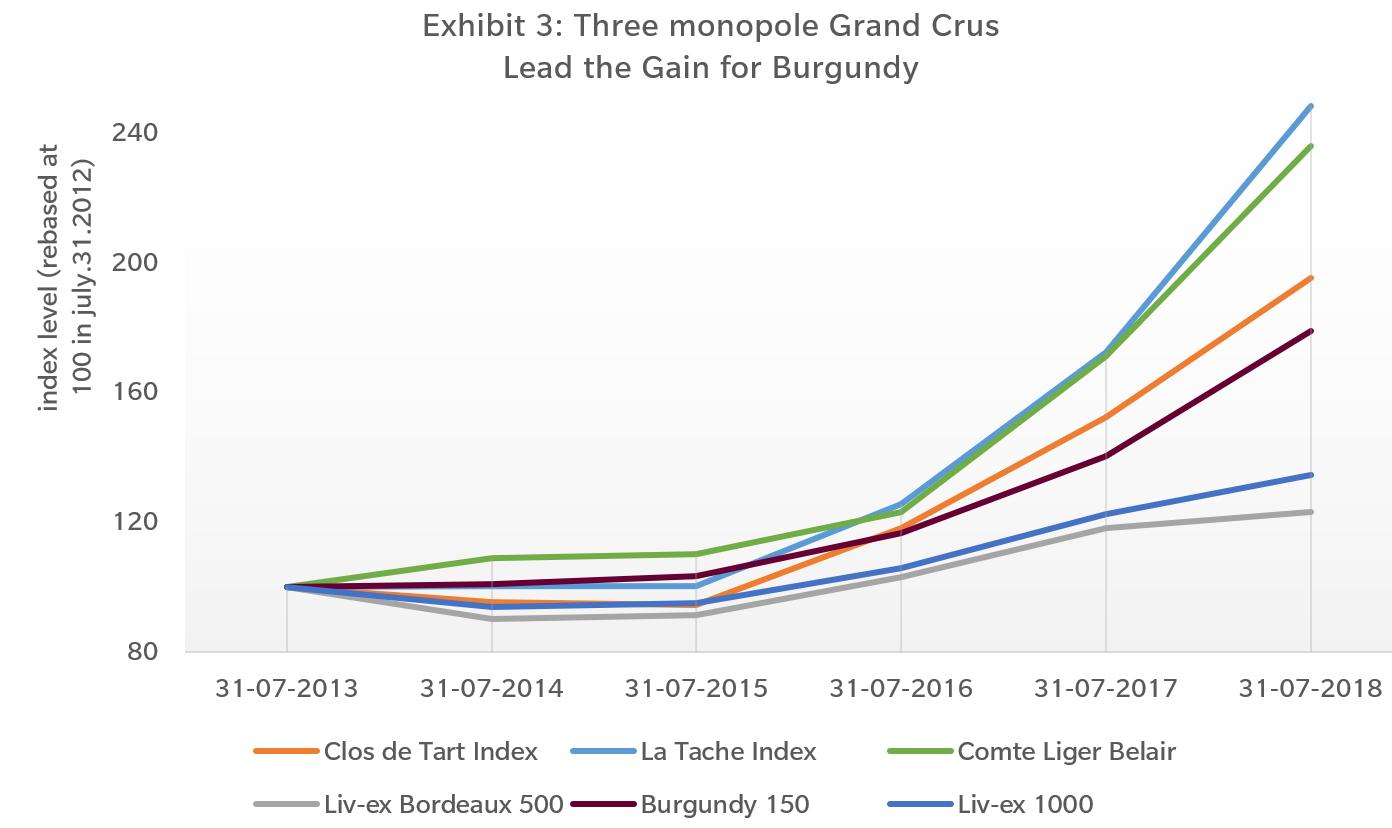 Acquisition of a Grand Cru as a competitive advantage?
Acquisition of a vineyard sometimes can be complex, and it isn't the answer for every company who wish to gain access to the exceptional terroir of Burgundy, especially of its highly coveted Grand Cru vineyards. But those that can manage the complexity of acquisition by establishing the capabilities and have successful acquisition experience required to explore its full potential for growth can enjoy an enduring competitive advantage.
The Artemis Group, the holding company of Chateau Latour, is safely qualified as such companies with a great reputation as an experienced acquirer and perceived as capable of providing distinctive capabilities for its target vineyards, including Chateau Latour in Bordeaux, Eisele Vineyard in Napa Valley, Chateau Grillet in Rhone Valley and Domaine d' Eugenie in Burgundy. The decision to add the 18.5-acre Grand Cru Clos de Tart to their roster of world class wineries must have been an easy one…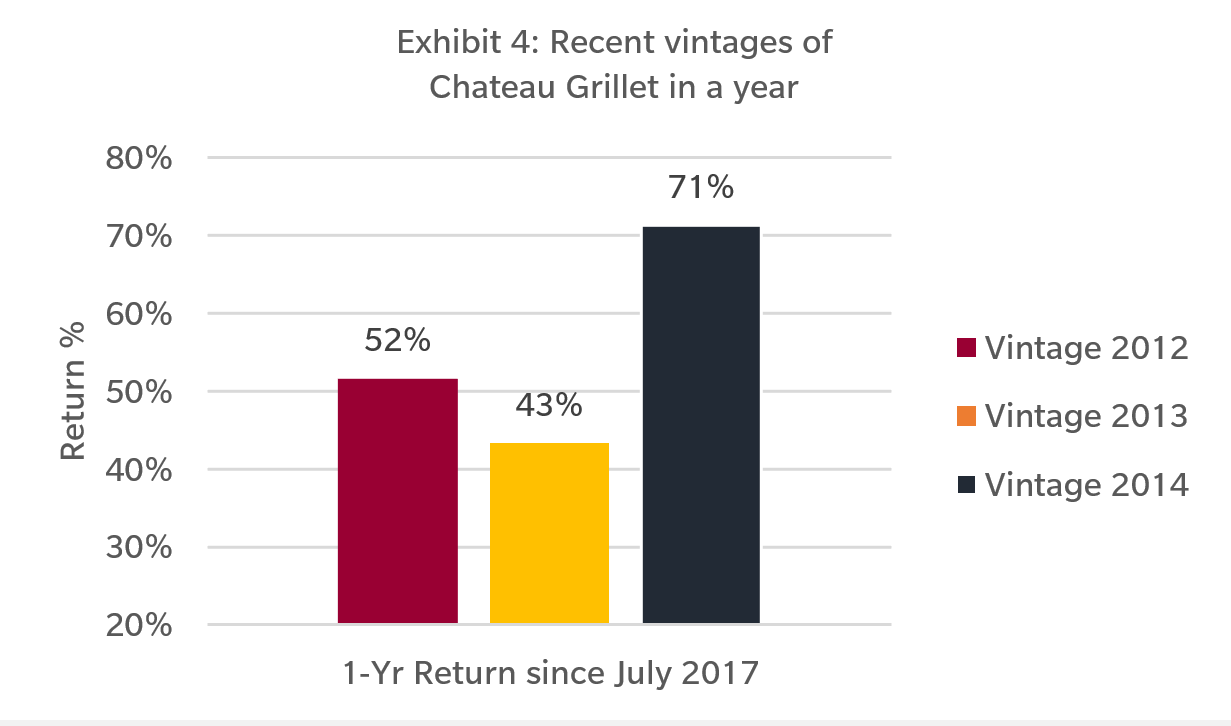 Case Study No. 1
Successful acquisition of Chateau Grillet
We studied the impact on value and brand power of one of the group's previous acquisitions; Chateau Grillet, situated in the Rhone Valley, was purchased by Artemis in 2011. With François Pinault's vision and the support of Latour's managing director Frederic Engerer installed as winemaker, Chateau Grillet has undertaken substantial works including operating buildings and equipment renovations at the vineyard to help bring out the best out of the unique terroir, whilst maintaining the winemaking customs of Rhone.
Since its acquisition announcement made in 2011, Chateau Grillet has witnessed significant price increase across most vintages. For example, vintages 2014 and 2012 delivered a return of 71.3% and 56.7% respectively within only one year from 2017. (Exhibit 4) Eisles Vineyard in Napa Valley is another good example which demonstrates the know-how of the group and how they have improved the perception of already well-established wine properties around the world.
Case Study No. 2
Clos Des Lambrays – How has the competition faired?
Key Information
Owner: LVMH (since April 2014)
Vineyard area: Clos 8.84 hectares (8.66 hectares of which is Clos des Lambrays grand cru)
Main Grape Variety: Pinot Noir
Grand Vin: Clos des Lambrays, Grand Cru
AOC: Morey-Saint-Denis, Cote de Nuits, Burgundy
Annual production: 30,000 bottles
Interestingly enough, Clos des Lambrays, situated next to Clos de Tart in Morey St Denis AOC, was acquired by another French luxury group LVMH in April 2014. As one of the oldest and most prestigious Grand Cru vineyards in Burgundy, the name Clos des Lambrays can be traced back to the year of 1365. Further refined its strategic vision, LVMH added this old Burgundy vineyard to its wine portfolio, which includes many world-famous wineries such as Krug, Dom Perignon, Cheval Blanc and Chateau d'Yquem, to better explore the potential of Clos des Lambrays. Exhibit 5 shows that the post-acquisition performance of Clos des Lambrays has steadily improved, and the average return of these 10 vintages* being evaluated is around 80% since acquisition in 2014.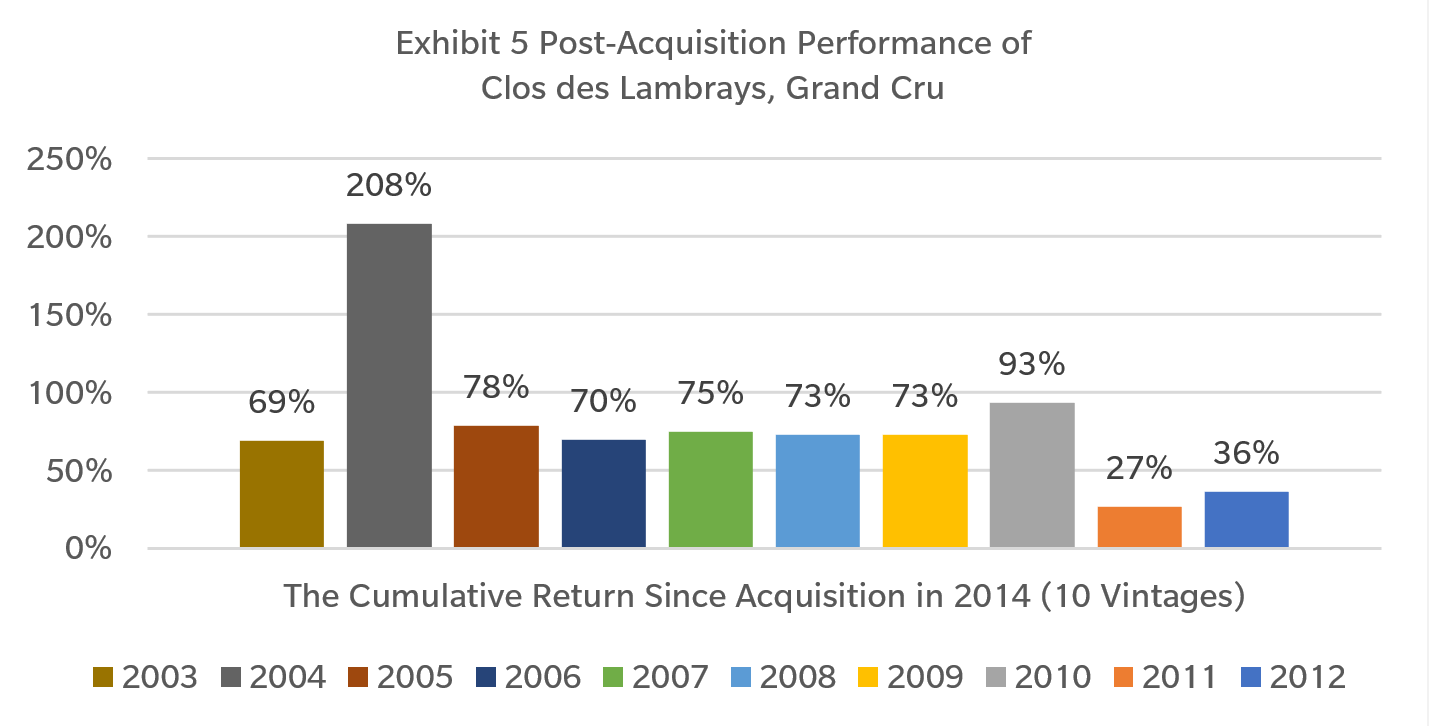 In conclusion, we believe that potential benefits that Artemis Group could provide for its target vineyards may include:
Accelerate market access for the target vineyards
Access to Group's professional global network reaching numerous industry segments
Synergies among acquired Artemis Domaines and obtain new growth opportunity