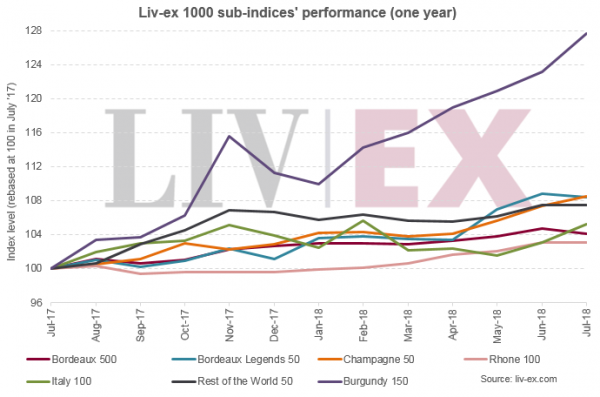 The Liv-ex 100 Index dropped 0.7% in July to close at 314.68 – the index's first fall since February 2018.
However, the broader measure of the market, the Liv-ex 1000, gained 0.7% to close July on 348.1 – a new record high for the index which has risen 5.3% year-to-date.
As Liv-ex reports, both the Bordeaux and Rest of the World 50 indices saw marginal losses, but all other sub-indices rose. Once again, the Burgundy 150 was the best performer, rising 3.5%. Over the course of a year this indices has risen over 23%, compared to the market's average rise of 10%.
In terms of specific wines, DRC's Richebourg 2014 was July's top riser, gaining 10.5%. A number of Champagne vintages, including Louis-Roederer Cristal 2009, Tattinger Comtes de Champagne Blanc de Blancs 2006 and Dom Perignon 2006 also saw decent gains.
Masseto 2014 was the month's biggest faller, dropping 10%. Italian wines have struggled this year, however the Italy 100 performed well in July, rising 2.1%.