Over the past 18 months we have continued to advise our investors to boost their exposure to carefully selected wines from Italy. Our investment team's recommendation is an overweight allocation of 12.5% which should include wines from Piedmont, Brunello di Montalcino and arguably the most famous brands the Super Tuscan estates. Since the start of the year, CW's Italy index has 'bucked the trend' of the wider market, our CW Super Tuscan Index has appreciated by 3.2%; an outperformance of 2.6% vs the Liv-ex Italy 100.
Cult Wines Super Tuscans Index Performance
Total Return % (31st March 2020)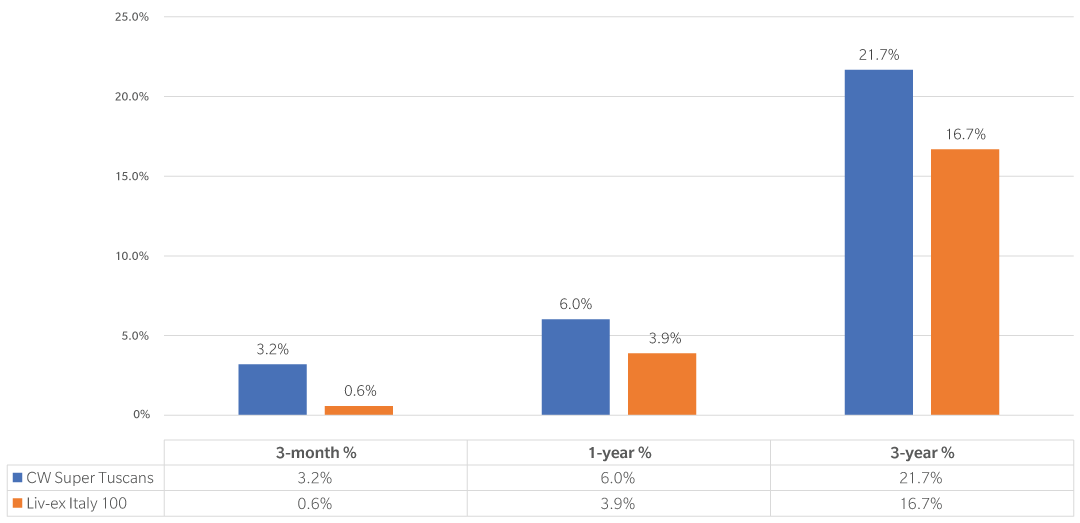 As outlined in our 2020 market outlook, we feel that Italy will continue to produce consistent returns over the next 5 years, the combination of great relative value and strong brand momentum makes these Super Tuscan 2017 recommendations a must-have for investors.

2017 was a challenging year for winemakers across Europe, and this was no different for the Tuscan estates. Only the most experienced were able to navigate it successfully. 2017 in Tuscany was a hot and a very dry year, it also posed several challenges; including both April frost during the growing season, and then a summer heatwave where drought naturally followed. As a result many of the grapes were heat damaged, and thus production levels were down by 30% on average. The hardy grapes that did survive the scorching heat produced high quality, rich and intensely concentrated wines.

Please see below for some further information on the individual wines being offered by Cult Wines, if you are interested in securing an allocation please contact us today.

Sassicaia 2017
Sassicaia is one of today's most iconic and sought-after fine wines in the world. 1968 was its first commercial vintage and it is the first single wine to be granted its own DOC in Italy - Bolgheri Sassicaia DOC. The name Sassicaia came from the word "place of many stones" and this gravelly soil, reminiscent of Grave in Bordeaux has allowed its Cambernet Sauvignon, Cabernet Franc and Merlot to produce wines of elegance with extraordinary power and length.
Key Points
£800.00 per 6 (excl. fees).
Since their release the 2015 has increased 77% in price and the 2016 89%; adding greater demand and cachet to what was already one of the most in-demand wines in the world.
Production in 2017 is down 15% compared to the 17,250 cases (of 12) produced in 2016.
Leading critics' scores:

94 Points Wine Advocate
95-96 James Suckling
93-96 Points Vinous: Antonio Galloni -

"The 2017 Sassicaia is a wild, exotic beauty. Sumptuous and flamboyantly ripe, the 2017 captures all the personality of the year in spades. Super-ripe red cherry, pomegranate and spice notes all flesh out in this curvy, racy beauty from Tenuta San Guido."
Sassicaia Current Prices vs Scores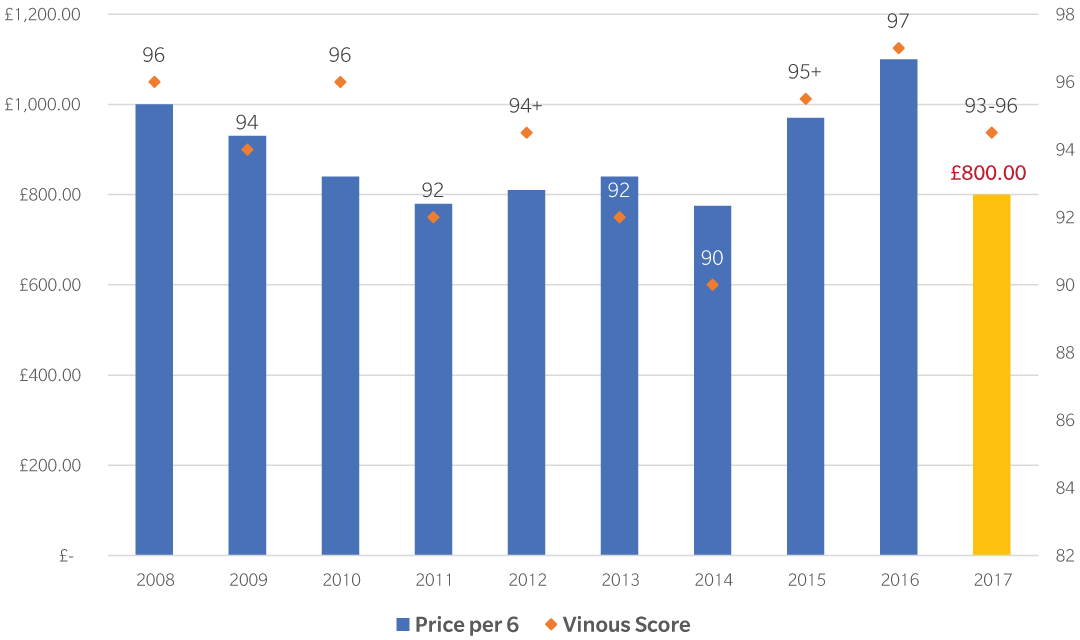 Sassicaia - Vintage performance % (Since Release)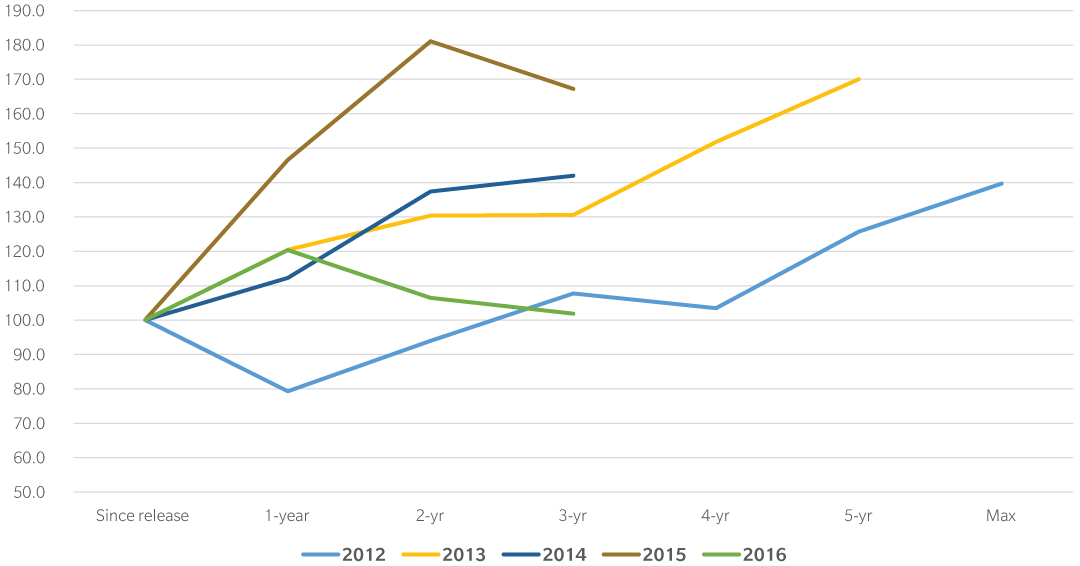 Ornellaia 2017

Tenuta dell'Ornellaia is located in one of the world's most exciting wine regions: Bolgheri; and is released under the appellation of Bolgheri DOC Superiore. The wine estate was founded in 1981 by Marchese Lodovico Antinori, and produced it first vintage in 1985. This wine is made from the traditional Bordeaux blend of Cabernet Franc, Cabernet Sauvignon, Merlot and Petit Verdot, and it only uses the best grapes to produce 12,500 cases (of 12) of this flagship wine.
Key Points
£700.00 per 6 (excl. fees).
Vintages 2000-2012 have appreciated an average of +37% over the past 5 years.
Since 2006, Ornellaia like Mouton has commissioned an artist to design their label; one bottle in every case has a design on it. Argentine Tomas Sareceno was chosen to design the 2017 label.
Tenuta dell'Ornellaia also produces Masseto, a single vineyard 100% merlot wine dubbed the "Petrus of Italy" and depending on vintage trades at @ £6,000 per 12.

95-96 Points James Suckling.
16.5++ Points Jancis Robinson.
97 Points Vinous: Antonio Galloni -

"sumptuous and racy, as Ornellaias from warmer years tend to be, but it is not at all heavy or overdone. In a word: superb!
Ornellaia Current Prices vs Scores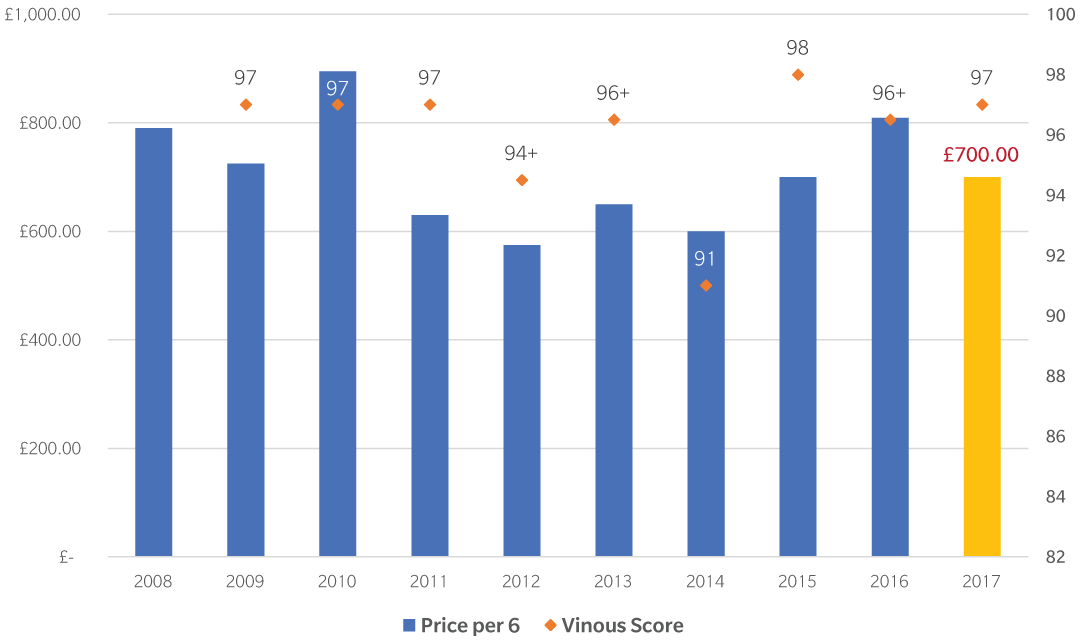 Ornellaia - Vintage performance % (Since Release)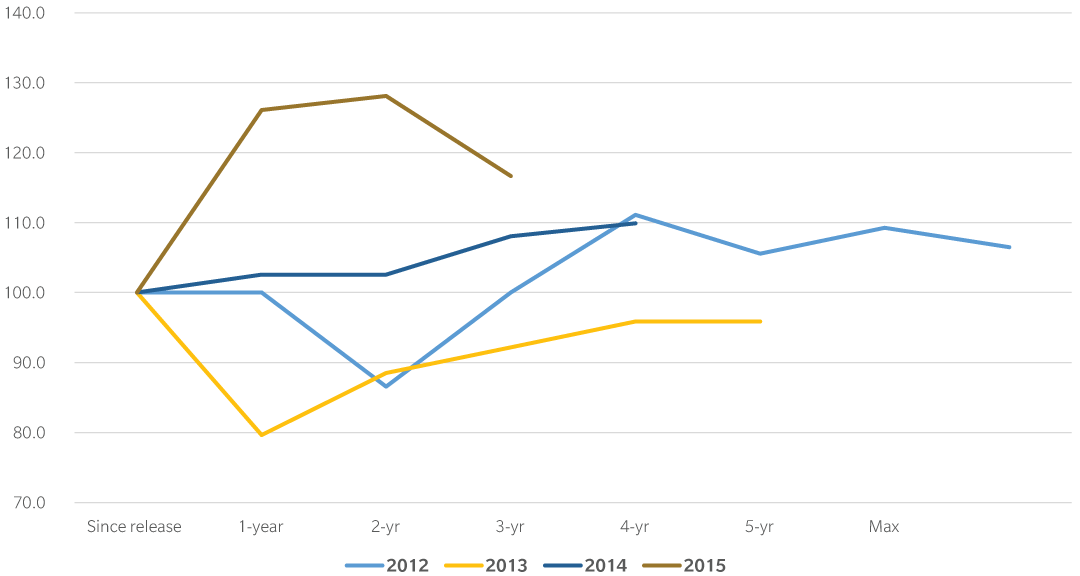 Tignanello 2017

Piero Antinori made a revolutionary flagship wine Tignanello which first appeared in 1971, it was the first Sangiovese (local grape of Tuscany) to be aged in French barriques. His contemporary red wine blended Sangiovese with untraditional varieties including Cabernet Sauvignon and Cabernet Franc. Antinori was then accused of treason and treachery but soon Sangiovese and Cabernet blends aging in barriques began appearing all over the Tuscany region.
Key Points
£375.00 per 6 (excl. fees).
Tignanello has become one of the best performing investment wines in the market, with 27.1% yoy seen in the Tignanello Index (tracking the last 10 physical vintages price movements).
Despite its 30,000-case production Tignanello sells out globally within days due to its sustained global demand and its sensible pricing strategy.
Production was reduced by 30% in 2017 due to the harsh vintage conditions, suggesting a lower supply for an on-going global demand.
Leading critics' scores: 95+ Vinous: Antonio Galloni

"The 2017 Tignanello is dense, exotic and flamboyant. Red berry fruit, cherries in liqueur, blood orange, wild flowers and sweet spice are front and center in this sumptuous, racy Tignanello that is likely to drink beautifully right out of the gate."
Similar rated vintages 12 months return:

2006 up by 37.8%
2008 up by 33.6%
2007 up by 33.1%
Tignanello Current Prices vs Scores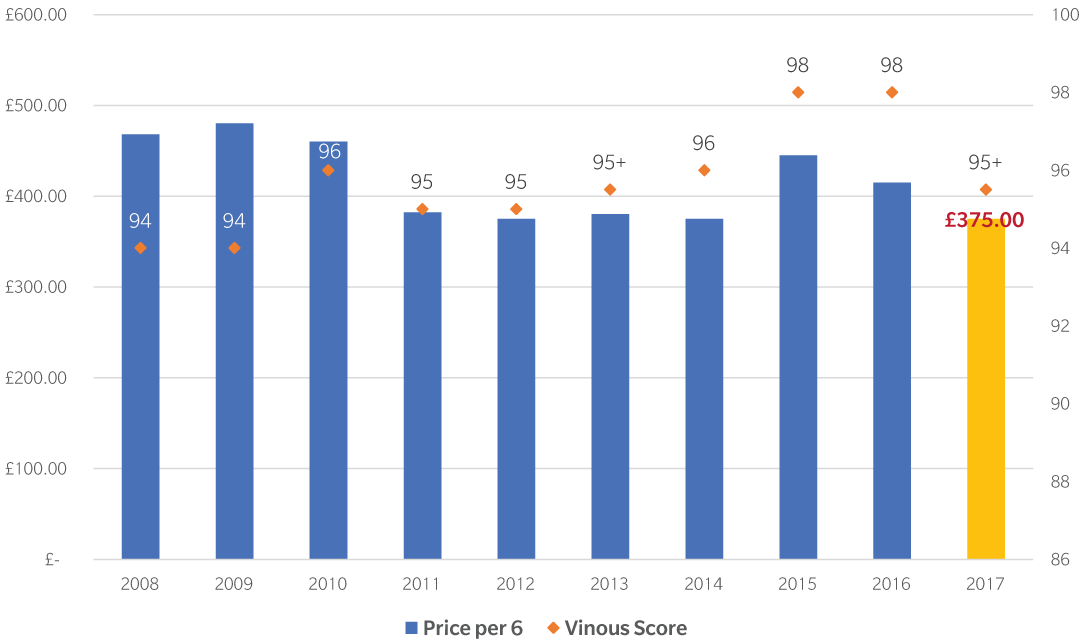 Tignanello - Vintage performance % (Since Release)