Fine wine markets are in the midst of a fantastic 2021. Even after strong price growth, now is still an excellent time to gain exposure to this expanding alternative asset class.
As we recently highlighted in our Q3 report, the Liv-ex 1000, the broadest measure of the market, is up 10.91% year-to-date (through 31 September) and over 16% since it began a sustained recovery following a brief dip at the outbreak of the COVID-19 pandemic.
And with equity markets wobbling in recent weeks and many forecasts pointing to potentially larger drops ahead, the attraction of alternative assets like fine wine only increases. In our view, the following three reasons underscore why there is plenty of fuel left in fine wine's tank to deliver short- and long-term capital growth amid an increasingly uncertain market backdrop:
1. Spike not as sharp as past rallies
The 16.7% return since last April when fine wine began is sustained recovery from the COVID-19 downturn is excellent but by no means unprecedented. In fact, it appears quite modest in relative terms compared to other 18-month rallies in fine wine's past.
| | |
| --- | --- |
| 18mo period | Return % |
| 31 Jan 2006 - 30 July 2007 | 60.4% |
| 31 Dec 2009 - 30 Jun 2011 | 34.4% |
| 31 May 2016 - 30 Nov 2017 | 30.4% |
| 31 Mar 2020 - 30 Sep 2021 | 16.7% |
This illustrates that fine wine's current streak is not a sign of over-heating. There should be plenty more room for onward growth in the near term as well as the long haul.
2. Markets fundamentals remain healthy
Fine wine has experienced impressive price growth at the established 'top-end' of the market alongside an ongoing diversification to new regions and producers.
Over the past 12 months, the Liv-ex Burgundy 150 has surged to a 18.1% gain. Bordeaux First Growths, the most established investment market, have enjoyed a healthy 8.8% rise. However, a key theme in fine wine in recent years has been its diversification. While Burgundy can still deliver the headline figures, other fine wine regions such as Italy, Chile, and California are pulling in growing demand from global audiences. Liv-ex has reported an encouraging increase in the number of individual wines traded on its platform in 2021.
With more wines to choose from, the asset class can provide investors with ongoing attractive growth opportunities.
3. Long-term stability
Now is still a great time to add fine wine exposure even if fine wine returns over the next year don't keep up with the 2021 pace. Fine wine's strong track record of consistent performance over different time periods means that getting the exact timing of an investment is less important than it might be for other asset classes. Even when fine wine prices do dip, the downturn is typically brief and relatively moderate compared to equities or other financial assets.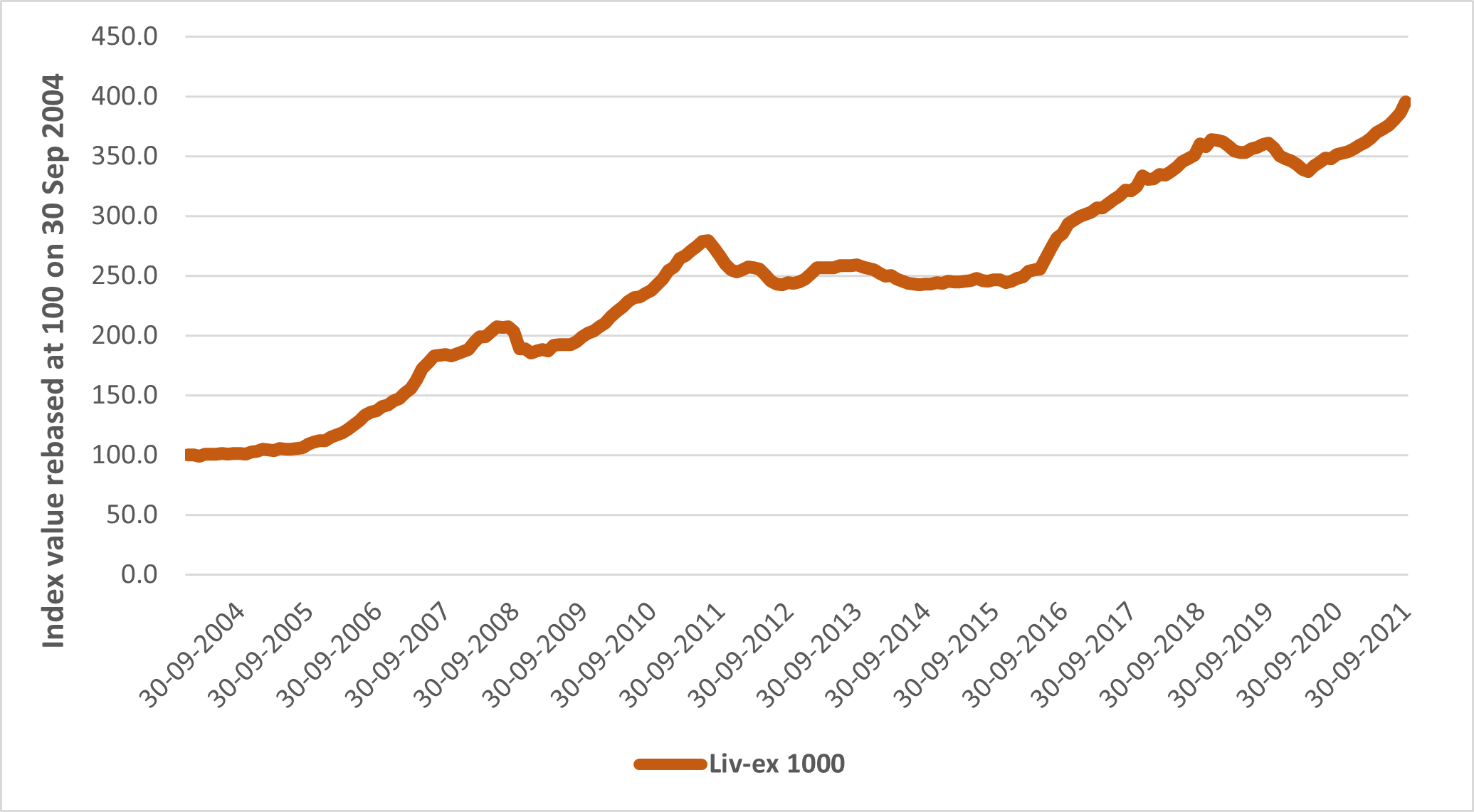 Source: Liv-ex as of 30 September 2021
The fact that fine wine exhibits low volatility relative to most equity markets and other asset classes means this isn't a market where investors shift in an out. Even with its red-hot run over the past year, fundamentals in fine wine are strong and now is still an excellent time to access long-term return potential.