11 March 2022
Barolo 2018: Discovering the nuance of the region's terroirs
Although 2018 is dividing opinions, the best Barolos express what made the region great and hold long-term investment potential
It wasn't long ago that Barolo was one of the hottest fine wine regions. In the middle of the 2010s, the stature of these long-lived Piedmont wines soared around the world, as the nuanced Nebbiolo grape spurred similar devotions to those of Pinot Noir. Names such as Giacomo Conterno became cult icons and helped popularise traditional family-run Piedmont wineries with a new generation of wine lovers around the world.
Barolo's rise, alongside iconic Super Tuscan wines, helped propel Italy into the core wine investment sphere. Although recent fine wine investment attention has turned to the red-hot Burgundy market and its 2020 EP releases, Italy's growth potential should not be overlooked. It was as recent as 2020 that Liv-ex's Italy 100 posted the top annual growth figure (8.8%) among Liv-ex's regional indices. After a slow start to 2021 due to some price consolidation, Italian wines continued their firm upward path and posted a 19.9% 12-month return through the end of February 2022.
We see room for more in 2022 as the huge price growth among top name Burgundy wines in 2021 could push buyers to seek value in Italy. The performance potential of the best new Barolos will surely benefit from any increased attention on Italy.
Barolo ageing requirements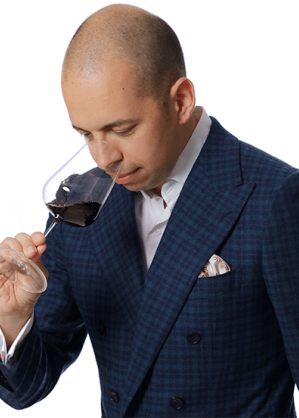 The 2018 wines are intense, refined and very terroir-driven. They bring definition and nuance in many places, and an increased understanding of climate change in the region helped winemakers in forging an exquisite vintage. The impressive range of terroirs combined with unique Estate styles will indeed please many new customers thanks to a more balanced, lean fruit driven profile. The 2018s are the type of Barolo that makes people fall in love with the region
Cult Wines' Senior Fine Wine Buyer Andrea Marino
The 2018 Barolo 'Annnata' (vintage) wines give Barolo fans an intriguing and diverse range to choose from. There are some differing opinions with Vinous' Antonio Galloni calling the 2018s "frustratingly inconsistent' but also saying they contain 'a number of gorgeous wines." Walter Speller, writing for Jancisrobinson.com, came away "elated, energised, and excited" by his 2018 tastings, adding that "the wines are extremely elegant, perfumed and charged with super-fine tannins. Their transparency accentuates in a clear-cut way the distinction between crus and villages and makes these wines almost ephemeral."

Source: Vinous Media



 



The 2018 growing season challenged producers with a very rainy May that brought disease risk and made work in the muddy vineyards more difficult. However, this rain refilled water tables that had been depleted during a 2017 drought. This would prove crucial as 2018 summer also featured uninterrupted dry, sunny days from June to September. This mixed year means that location and choices made by growers and winemakers were key to the end results.
"Although hard to generalize, the area around La Morra and Verduno yielded a number of terrific Barolos. The same can be said of elite vineyards like Brunate and Cerequio." – Antonio Galloni
Investment implications
To put it simply, great Barolos typically make great investments, and the successful 2018s should be no exception, especially as Italy is poised to continue to take a greater share of the fine wine market in 2022 and beyond.
Cult Wine Investment's Piedmont wines (namely Barolo and Barbaresco) posted big growth numbers just a few years ago (19% in 2017 and 14% in 2018[1]) but recent years have seen a slower pace as attention shifted to Tuscany within Italy and to Burgundy and Champagne further afield. But as a result, the relative value of many great wines in the region has improved, especially when compared to Burgundy.
[1]

 Source: Pricing data from Liv-ex. Past performance is not necessarily indicative of future results. The CW Index is calculated in GBP
and results in (USD or CAD$) will fluctuate based on currency exchange rates. Performance figures are reported gross of fees.
Dwarfed by Burgundy
Prices of select 2016 wines from Barolo and Burgundy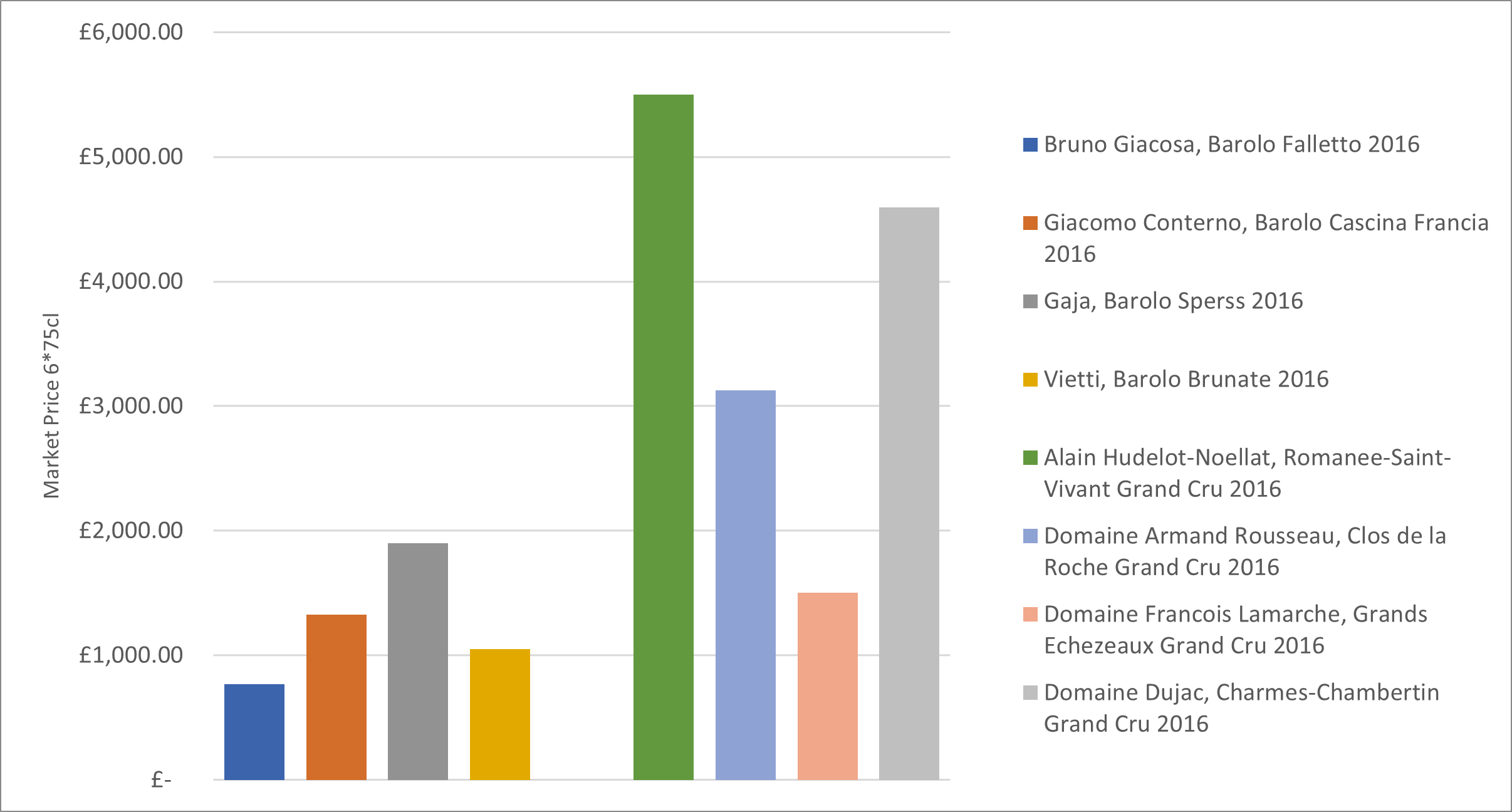 Source: Liv-ex as of 09 Mar 2022. 

 


The real potential for the 2018s could rest in the long term, and the key in 2018 will be identifying the best wines with long ageing potential and then holding them through their lifespans. The fact that there are some mixed opinions of 2018 and ageing potential is not as widespread as 2015 and 2016 could help the top wines achieve price growth as more of the vintage's wines will get consumed earlier, creating scarcity over time.
While 2016 Barolos had widespread appeal, we think that those in possession of the most intriguing wines from the 2018 cohort will reap the benefits down the road with either healthy returns or a set of unique expressions of one of the most cherished regions in all of fine wine.
Here, we profile a few of our favourite producers and their 2018 wines.
The Conterno family are winemaking royalty in the Langhe. In some form or another, the family has been making wine since the 18th century, and Aldo's father Giacomo was instrumental in developing Barolo into the world class wine in the first half of the 1900s at his eponymously named winery. This Giacomo Conterno winery then passed to his sons, Giovanni and Aldo, before Aldo branched out on his own in 1969 by creating Poderi Aldo Conterno.
Nowadays, wines from Poderi Aldo Conterno are famous all over the world with strong followings in the US and Asia. Their cru bottlings - Colonnello, Cicala, Romirasco – are all robust wines with incredibly long lifespans as is typical of the Bussia sub-region around Monforte d'Alba. During vintages like 2018, the unique traits of each parcel can shine through, providing a wonderful spectrum of Bussia wines.
Barolo Bussia Cicala

Cicalo provides the most classic representation of the Bussia style
11.5% - average all-vintage 5-year price growth (Wine Searcher)

Barolo Colonello

Sandy soils result in a more elegant wine with softer tannins than other Bussia wines
15.8% - average all-vintage 5-year price growth (Wine Searcher)

Barolo Bussia Romirasco

This unique vineyard has the highest altitude in Bussia (400m+) and a mix of limestone and magnesium, resulting in deep wine with lifted minerality
28.1% - average all-vintage 5-year price growth (Wine Searcher)
Cavallotto is historically one of the most important domaines in Barolo, and one of the first to bottle their own wines in the late 1940s. Today, Alfio Cavallotto maintains the family's adherence to traditional methods and keeps yields low and intervention to a minimum.
In a 'terroir-driven' vintage like 2018, Cavallotto benefits from its near-monopole of the magnificent Bricco Boschis vineyard to make its Barolo Bricco Boschis cru as well as the Riserva Bricco Boschis Vigna San Giuseppe. In addition to stunning views, the hillside vineyard boasts an ideal south and southwest exposures and calcareous marl soils that enhance finesse. At roughly 300m altitude, the hillside's optimal air circulation helps minimise disease risk and preserve freshness even during hot summers. Cavallotto has another cru vineyard, Vignolo, used for its Riserva Vignolo.
Barolo Bricco Boschis

25.0% - average all-vintage 5-year price growth (Wine Searcher)
17++ pts (Walter Speller, Jancisrobinson.com) "Gorgeous ripe, intense, tactile tannins like a carpet rolled out for the vibrant fruit."
Owner and winemaker Chiara Boschis has been a leading light in Barolo for over three decades and continues to produce some of the best and most consistent wines through the ups and downs of each vintage.
Chiara took the reins at the historic Pira estate in 1980s as one of the first female Barolo winemakers. She also converted the estate to organic farming and convinced the other growers in Cannubi to follow suit. Her wines strike a delicate balance of harnessing Barolo's depth and ability to age while also being approachable at an early age.
Barolo Via Nuova

Via Nuova was once the name of a very small cru vineyard but it was incorporated into a larger sub-area in 2010. Chiara Boschis's Via Nuova now blends grapes from six sites that give this 2018 vintage a distinct energy and brightness.
14.0% - average all-vintage 5-year price growth (Wine Searcher)
94pts (Antonio Galloni, Vinous)

Barolo Cannubi

One of the most famous sites in the whole of Barolo giving a style that epitomizes why the world fell in love with Barolo. The 2018 brings an understated charm that should grow with time.
23.2% - average all-vintage 5-year price growth (Wine Searcher)
93pts (Antonio Galloni, Vinous)

Barolo Mosconi

Mosconi cru in Monforte d'Alba has an iron-rich soil, giving a deep structure for long-lived wines. Old vines help elongate the finish on this powerful 2018.
13.8% - average all-vintage 5-year price growth (Wine Searcher)
94pts (Antonio Galloni, Vinous)
With a pristine location next to the hilltop village of Castiglione Falletto, Vietti is another name that boasts some of the finest terroir in Barolo. Vietti was an early pioneer of single 'cru' bottling in Barolo with their Rocche di Castiglione in 1961 and now offers a range of individual vineyard bottlings, many of which were among the top wines in 2018.
Collectors should look out for two new wines in Vietti's range, Cerequio and Monvigliero, that impressed in their debuts in 2018. Cerequio garnered the top score of the vintage from Antonio Galloni who called it "nuanced and deep, with tremendous complexity and tons of character." Monvigliero came just 1 point behind with "purity, delineation and class."
Barolo Cerequio

Debut bottling of one of the most prestigious crus that creates incredibly concentrated aromatic wines
97pts (Antonio Galloni, Vinous' top-rated 2018 Barolo)

Barolo Monvigliero

Debut bottling from one of the most northern vineyards in Barolo
96pts (Antonio Galloni, Vinous)

Barolo Rocche di Castiglione

One of the most famous crus in all Barolo, the 2018 wine is particularly potent and complex
32.5% - average all-vintage 5-year price growth (Wine Searcher)
96pts (Antonio Galloni, Vinous)

Barolo Ravera

Ravera cru benefits from idea exposure and iron-rich soils making structured wines destined for long ageing, such as this 2018 example.
16.8% - average all-vintage 5-year price growth (Wine Searcher)
95+pts (Antonio Galloni, Vinous)

Barolo Brunate

The 2018 Brunate is packed with classic Barolo herbal and floral flavours and with time should fully develop into a great example of a wonderful cru
26.5% - average all-vintage 5-year price growth (Wine Searcher)
94pts (Antonio Galloni, Vinous)
Luciano Sandrone started out in the 1970s with a plot in the Cannubi Boschis vineyard, dubbed the 'cradle of Barolo,' and hasn't looked back. The Sandrone estate shot to fame in 1989 and 1990 when Robert Parker handed out scores of 97pts and 100pts, respectively, to the two vintages' Cannubi Boschis wines. This wine's name changed to Aleste in 2017 but remains one of the most sought-after Barolos.
Sandrone also added the Le Vigne in 1990 as a blend of the Baudana vineyard in Serralunga (structural backbone), Villero in Castiglione (depth), Merli in Novello (fruit aromas), and Vignane from Barolo (finesse and elegance).
Barolo Aleste

From the famed Cannubi Boschis vineyard, the The 2018 vintage's deep concentration reflects the sunny summer and sheltered location of the plot. This is balanced by Barolo's distinct freshness that will provide for a long lifespan.
6.0% - average all-vintage 5-year price growth (Wine Searcher)
94pts (Antonio Galloni, Vinous)

Barolo Le Vigne

The 2018 blend stems from Baudana, Villero, Vignane and Merli vineyards.
9.4% - average all-vintage 5-year price growth (Wine Searcher)
93pts (Antonio Galloni, Vinous)
* Past performance is not indicative of future success; the performance was calculated in GBP and will vary in other currencies. Any investment involves risk of partial or full loss of capital. The Cult Wine Investment Performance is a hypothetical tool. The results depicted here are not based on actual trading and do not account for the annual management fees that may be charged to a Cult Wines customer which range from 2.25% to 2.95% depending on the size of the portfolio, and there is no guarantee of similar performance with an investor's particular portfolio.