17 February 2023
Barolo 2019 Vintage – Could a great vintage ignite regional performance?
The hype train for the Barolo 2019 vintage has left the station. Already anticipated as an excellent vintage since the end of the harvest, the early critic reports are adding fuel to the fire now that wines are getting bottled for release.
"Barolo bounces back with a stellar vintage in 2019 that could very well represent the beginning of a new cycle of strong, outstanding years for this historic appellation."
- Antonio Galloni (Vinous)
"2019 is a vintage that excels in elegance, which is backed up by plenty of fresh fruit and lots of 'unsettled' tannins."
– Walter Speller (Jancis Robinson)
But can this praise translate into strong regional performance? The 2018 vintage met with a more mixed reception among wine critics, and high-level perceptions can impact global demand, especially in Italy which doesn't have the same 'must-have' reputation as each Burgundy vintage.
The divided opinions about the 2018 vintage may have limited regional performance. Cult Wines Italy Index posted a healthy 9.22% gain last year[1] but this fell short of the pace seen in other regions (e.g. Cult Wines Burgundy Index +31.31%, Cult Wines USA Index +15.99%).
The question becomes can these 2019s unlock the region's potential across new and back vintages alike. For us, the answer doesn't necessarily rest in the near term. The 2019 headlines may spur a regional rally, but the macro backdrop could also form a mitigating factor. Instead, the strength of top Barolos is their quality and relative value, which means their investment potential should manifest in the long term.
The recent underperformance means the new 2019s could form an appealing entry point. Many Barolos show even more accessible prices compared to global peers than they did one or two years ago. This underpins their long-term investment potential, with the high quality 2019s hopefully forming a catalyst to generate increased attention.
Barolo's global value
Price of select Barolo and Burgundy Grand Crus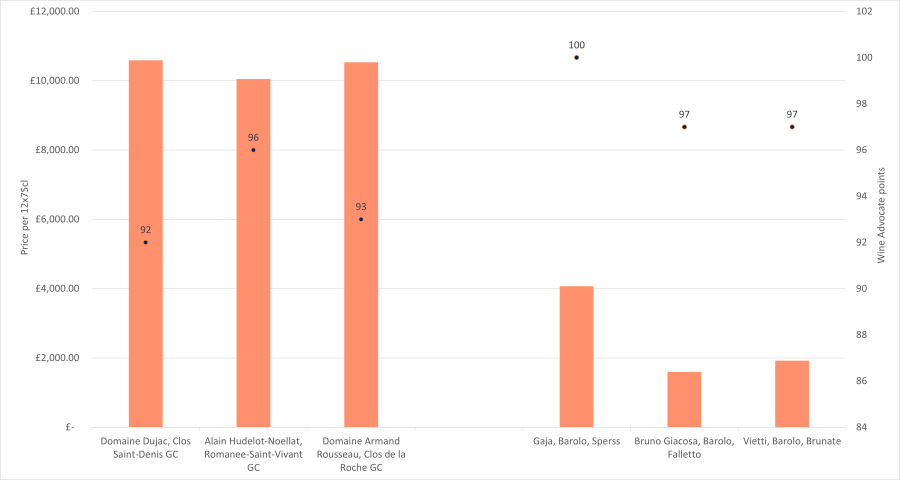 Source: Pricing data from Wine-Searcher as of 31 January 2023. Scores from Robertparker.com.

Although the above chart doesn't represent the entirety of either the Burgundy or Barolo market, it illustrates the value gap for wines with similar or higher scores (Wine Advocate) from a high-quality 2016 vintage, that some are starting to compare to the new 2019s.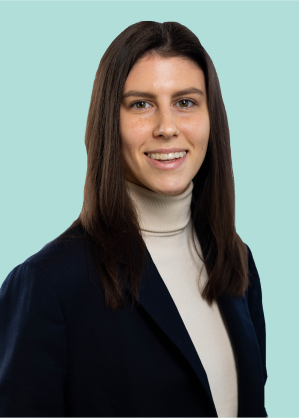 "A year ago, we highlighted the price gap between topflight Barolos and Burgundy as a potential relative value opportunity. Although Burgundy wines remained the top performers in 2022, we still believe in the long-term potential in Piedmont. If the 2018s failed to ignite the fine wine market's passions, the 2019s could be what rekindles Italy's growth potential."
– Stasya Zvolinskaya, Cult Wines Research Analyst
Growing season – Balanced despite heat
"Today, the 2019s show elements of youthful austerity that, at times, recall vintages such as 2016, 2005 and 1999."
– Antonio Galloni
Hot, dry growing seasons have become increasingly regular in Piedmont (and elsewhere) as the climate changes. 2019 is the start of a string of years with warm temperatures continuing up until this past year. However, the 2019 wines aren't typical 'hot vintage' wines. That's because the growing season offered up conditions that kept the wines in balance, such as:
Periods of rain typically followed the summer heatwaves, meaning the grapes didn't get 'cooked' during extended periods of intense sun or drought.


Diurnal shifts, which means a large difference between day and night temperatures, kept the grapes from becoming overripe. When grapes get overripe, sugar levels soar, which translates to excessively high alcohol levels when sugars ferment. The 2019 wines have lower final alcohol levels than the 2018s for the most part. The cooler night temperatures also helped preserve acidity levels, which should provide a refreshing balance in the end wines and extend their lifespans.


A "late" harvest in mid-October meant the grapes had plenty of time on the vine for the tannic elements to develop, reducing any astringent flavours in the famously high-tannin Nebbiolo wines. Traditionally, a mid-October harvest was considered normal but recent years have seen harvest times creeping forward, meaning 2019 appears to have hit the sweet spot of balancing a hot summer without shortening the growing season.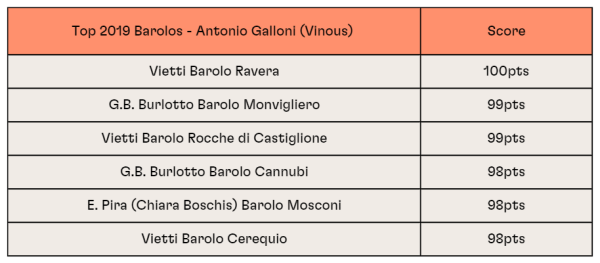 Three producers to watch
Vietti starred in Galloni's rankings, which is not surprising; Vinous has scored Vietti's Barolo Ravera at least 95pts every year since 2010.
In 2018, Vietti launched two new wines, Cerequio and Monvigliero. While last year's debuts were impressive, a strong vintage like 2019 could generate more attention for these newcomers, which Galloni scored 98pts and 97+pts respectively in 2019. Other top Vietti Barolos include:
Barolo Brunate

98pts (Antonio Galloni, Vinous)
37.72% - average all-vintage 5-year price growth (Wine-Searcher)



Barolo Rocche di Castiglione

99pts (Antonio Galloni, Vinous)
42.74% - average all-vintage 5-year price growth (Wine-Searcher)



Barolo Ravera

100pts (Antonio Galloni, Vinous)
22.14% - average all-vintage 5-year price growth (Wine-Searcher)
Owner and winemaker Chiara Boschis has been a leading light in Barolo for over three decades and continues to produce some of the best and most consistent wines. In our view, prices have not yet fully reflected the quality of the wines she produces.
Chiara took the reins at the historic Pira estate in the 1980s as one of the first female Barolo winemakers. She also converted the estate to organic farming and convinced the other growers in Cannubi to follow suit.
Barolo Mosconi

98pts (Antonio Galloni, Vinous)
31.48% - average all-vintage 5-year price growth (Wine-Searcher)



Barolo Cannubi

97pts (Antonio Galloni, Vinous)
54.55% - average all-vintage 5-year price growth (Wine-Searcher)



Barolo Via Nuova

97pts (Antonio Galloni, Vinous)
29.63% - average all-vintage 5-year price growth (Wine-Searcher)
Aldo Vajra set up this winery when he was just 16 in 1972 and named it after his father, Giuseppe Domenico, who originally planted many of the vines years before. The winery quickly made a name for itself as an early champion of organic methods.
The Bricco delle Viole vineyard is one of the highest locations in all of Barolo and the children of Aldo are now experts at getting the best out of this unique site. Prices remain low compared to similarly scored peers in Barolo and elsewhere, meaning this represents a low-risk option in addition to a great wine.
Bricco delle Viole

97pts (Antonio Galloni, Vinous)
41.51% - average all-vintage 5-year price growth (Wine-Searcher)



Barolo Ravera

96pts (Antonio Galloni, Vinous)
40.43% - average all-vintage 5-year price growth (Wine-Searcher)
[1] Source: Cult Wines Indices as of 31 December 2022. Pricing data from Wine Searcher. Performance calculated in GBP and may vary in other currencies. Past performance is not a guarantee of future results.