30 May 2022
Left Bank First Growths: Value at the Top
Cult Wine Investment has always prioritised building a diverse portfolio including different producers at different category levels.
For Bordeaux, we've broken down our producers into five categories – First Growths, Super Seconds, Quality-Price Ratio, and Second Wines. Our 2021 EP Report contains a more detailed description of the categories.
Here, we delve into some of target producers in each category, starting with First Growths and their respective Second Wines.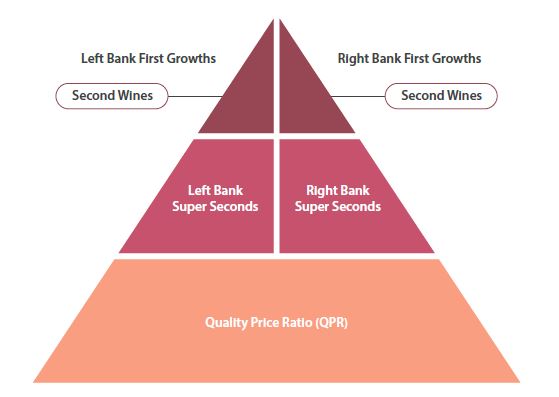 The First Growths of the Left Bank have long been the pinnacle of Bordeaux, the cornerstone region of the fine wine universe. And today, these châteaux could represent some of the best value among the top tiers of global market.
As the top rung of the Left Bank pyramid, they have long commanded some of the heftiest price tags, as global wine lovers sought their consistent top quality and brand prestige. This has helped Left Bank First Growths perform reliably – 5-year total return of 23.9%1 - even if they're not normally associated with a bargain.
However, Bordeaux First Growth prices appear relatively accessible in the current market. This stems from Burgundy and Champagne's dominant performance over the past two years, which has made the steady price appreciation of Bordeaux wines look modest in comparison, especially considering the excellent wines they promise.
Looking at critic scores backs up this view. Taking the 2015 vintage as an example (chart below), Bordeaux First Growths with perfect or near-perfect critic scores come much cheaper than many Burgundy wines with similar or lower scores.
Figure 1 - Prices & scores of select Bordeaux First Growths vs Burgundy Grand Crus

Source: Pricing data from Liv-ex as of 24 May 2022.
We recognise that these examples are only anecdotal and that other factors impact prices, such as quantity. However, if you're searching for global iconic wines with high scores, Bordeaux holds some of the better value options, at the moment.
With the current challenging economic backdrop, we also expect buyers will start to favour the more stable segments of the market, such as Bordeaux. This could spur Bordeaux's top wines to close the gap versus Burgundy peers.
1 30 Apr 2017 - 30 Apr 2022; calculated using Liv-ex pricing from 2006-2015 vintages of Left Bank First Growths. Past performance is not a guarantee of future returns. The performance was calculated in GBP and will vary in other currencies. Any investment involves risk of partial or full loss of capital. The Cult Wine Investment Performance is a hypothetical tool. The results depicted here are not based on actual trading and do not account for the annual management fees that may be charged to a Cult Wines customer which ranges from 2.95% to 2.25% depending on the size of the portfolio, and there is no guarantee of similar performance with an investor's particular portfolio.
2 21% average compound annual growth rate of CWI's EP purchases of Carruades from 2015-2020 EP campaigns.