06 July 2023
June 2023 Flash Report - Wine market remains in choppy waters
Cult Wines Indices – Returns as of 30 June 2023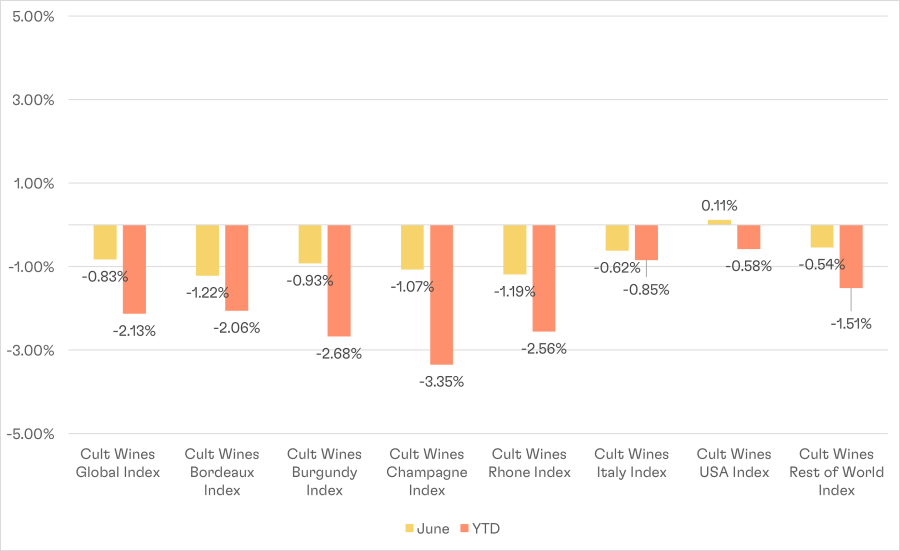 Source: Pricing data as of 30 June 2023. Cult Wines Indices are an objective measure of the global fine wine market based on Wine-Searcher pricing data and rebalanced annually based on strict liquidity criteria. Prices calculated in GBP and results may vary in other currencies. Past performance is not a guarantee of future results.
Fine wine markets fell by 0.83% in June, according to the Cult Wines Global Index, as part of an ongoing correction in the wake of the extended rally that stretched from mid-2020 to the end of 2022.
Uncharacteristically, Bordeaux experienced the largest drop. This likely stemmed in part from a shake-up of the market during the 2022 En Primeur (EP) campaign. The releases of the high-quality 2022 wines triggered increased regional trading activity, which led to a repricing of some back vintages.
The stronger British pound relative to the US dollar also impacted the indices negatively (Cult Wines Indices are calculated in pounds sterling).
Macro market summary – US equities rally despite ongoing concerns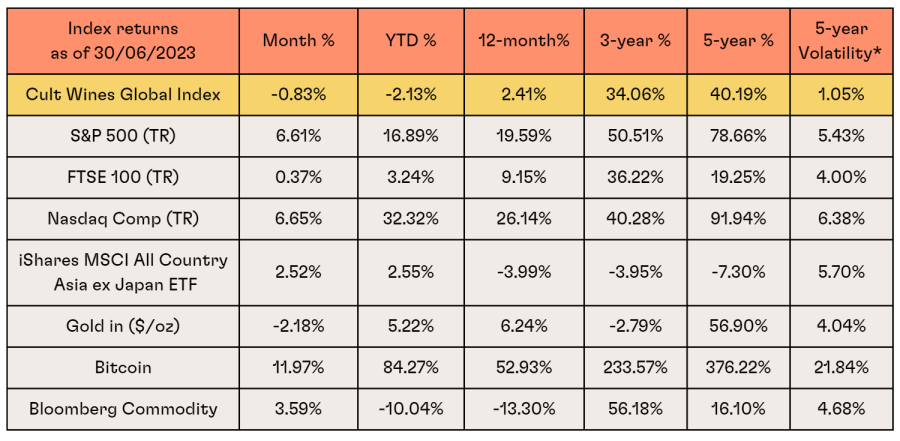 Source: Investing.com, Wine-Searcher as of 30 June 2023. Past performance is not indicative of future returns.
*Volatility = Rolling 5-year standard deviation of monthly returns
US stocks showed strength in June on the back of a strong employment market and falling inflation. Although some still forecast a recession later this year, the easing inflationary pressures mean the Federal Reserve may have more flexibility to support economic growth.
Asian indices also enjoyed a strong month. The Chinese central bank eased key lending rates to support the recovery, while ongoing rally among Japanese equities benefitted from strong interest from foreign buyers.
Inflation has proven stickier in the UK, prompting the Bank of England's more aggressive rate hiking approach, including a higher-than-expected 0.5% rate hike in June. As result, UK equities underperformed while interest rates climbed to multi-year highs. Higher rates are translating to a stronger British pound against the euro and US dollar.
Regional wine performance detail
The Cult Wines Bordeaux Index experienced the biggest decline in June. This most established region of the fine wine investment market usually maintains relative stability and had held up better than Burgundy and Champagne during the early-year downturn. However, the annual EP campaign can often shake-up the regional market as collectors and investors shift stock to make room for new EP purchases. Chateau Brane-Cantenac's new 2022 release looks like one of the estate's best wines ever, and its older, lower-scored 2012 (-9.4%) was among the individual wines to decline in price.
Rhone, another region known for stability, struggled in June, possibly in part due to the market's focus on Bordeaux. Some older Chateauneuf-du-Pape vintages experienced price declines, including Domaine du Pegau, Chateauneuf-du-Pape, Cuvee Reservee Rouge 2009.
Both the Cult Wines Burgundy and Champagne Indices continued to see price consolidation following their impressive rallies in 2021-2022. Demand remains for both regions, but consumers have become increasingly more selective. For example, one of the biggest declines came from Perrier Jouet, Belle Epoque 2002 Champagne whereas the 2004 vintage of the same wine jumped in price by 8.50%.
The Cult Wines USA Index, a region that often behaves idiosyncratically to the rest of the market, outperformed in June with a 0.11% gain. Two rare premium names contributed to the positive June - Schrader, RBS Beckstoffer To Kalon Vineyard Cabernet Sauvignon, Oakville 2018 surged by 20.1% while Paul Hobbs Beckstoffer Dr. Crane Vineyard Cabernet Sauvignon, St. Helena 2015 rose 12.2%.
2023 Wine Performance League Table – YTD Return % Across Vintages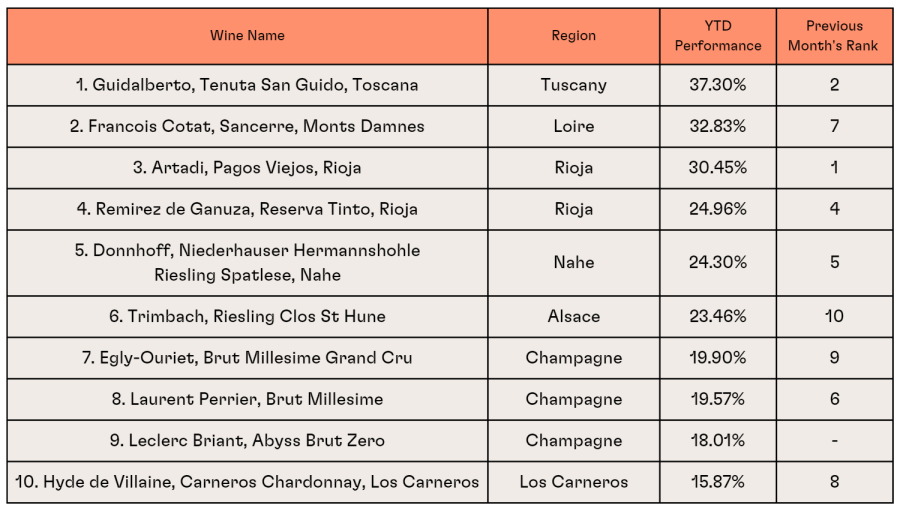 Source: Pricing data from Wine-Searcher as of 30 June 2023. Based on average across all vintages of wines contained in Cult Wines Indices, which are rebalanced regularly based on strict, objective liquidity criteria. Prices calculated in GBP and results may vary in other currencies. Past performance is not a guarantee of future results.
Guidalberto grabbed the top spot after sitting second for a few months running. This Tuscan Merlot-based wine of Tenuta San Guido is generating more appreciation as a serious, age-worthy wine in its own right rather than just a second label to Sassicaia.
Domaine Francis Cotat's Les Monts Damnes's complex, well-structured Sauvignon Blanc from the Loire Valley continued its rapid ascent, jumping from 7th to 2nd in June.
The previous leader, Artadi Pagos Viejos, rose in price but at a slower pace and, hence, fell to 3rd.
Two Rieslings from opposite sides of the German-French border hold the 4th and 5th spots.
Three Champagnes remained clustered in the 7-9 spots. The Leclerc Braint Abyss Brut Zero is unique zero-dosage wine that spends over 12 months ageing in bottle under the sea off the coast of Brittany and surfaced in the top 10 list for the first time in June.
---
Launched in December 2022, the Cult Wines Global Index and Cult Wines Regional Indices form benchmark measurements of the global fine wine market performance with historical data, powered by Wine-Searcher, going back to the beginning of 2014. The Indices are separate from Cult Wine Investment Performance which tracks wines purchased by Cult Wine Investment.
Past performance is not indicative of future success; the performance was calculated in GBP and will vary in other currencies. Any investment involves risk of partial or full loss of capital. The results depicted here are not based on actual trading and do not account for the annual management fees that may be charged to a Cult Wine Investment customer which range from 2.25% to 2.95% depending on the size of the portfolio, and there is no guarantee of similar performance with an investor's particular portfolio.