In August last year, we published our Italy investment report to examine the development of the Italian wine market and highlighted some interesting investment ideas in both Tuscany and Piedmont.
Based on our analysis, we concluded that investors with a diversified wine portfolio should overweight Italy vs. benchmark regions by 5-10%. Since then our investment team has upgraded our target tactical allocation for Italy to 12.5%, with a focus on top vintages of Barolo and Brunello due to a combination of high absolute return potential and their defensive characteristics. In light of the highly acclaimed, recent and upcoming releases from Brunello (2015) and Barolo (2016) now is a great time to be investing in such a golden age of Italian wine-making.
In short, the 2015 is the best vintage for Brunello since the prodigious 2010s, whilst 2016 has been described as a truly perfect vintage for Barolos. We strongly believe that Italian wines continue to offer the most economical entry point for red wine investors. Our advice is to stay ahead of the curve and buy in now.
Our investment team has established a benchmark portfolio of our target producers and their leading wines.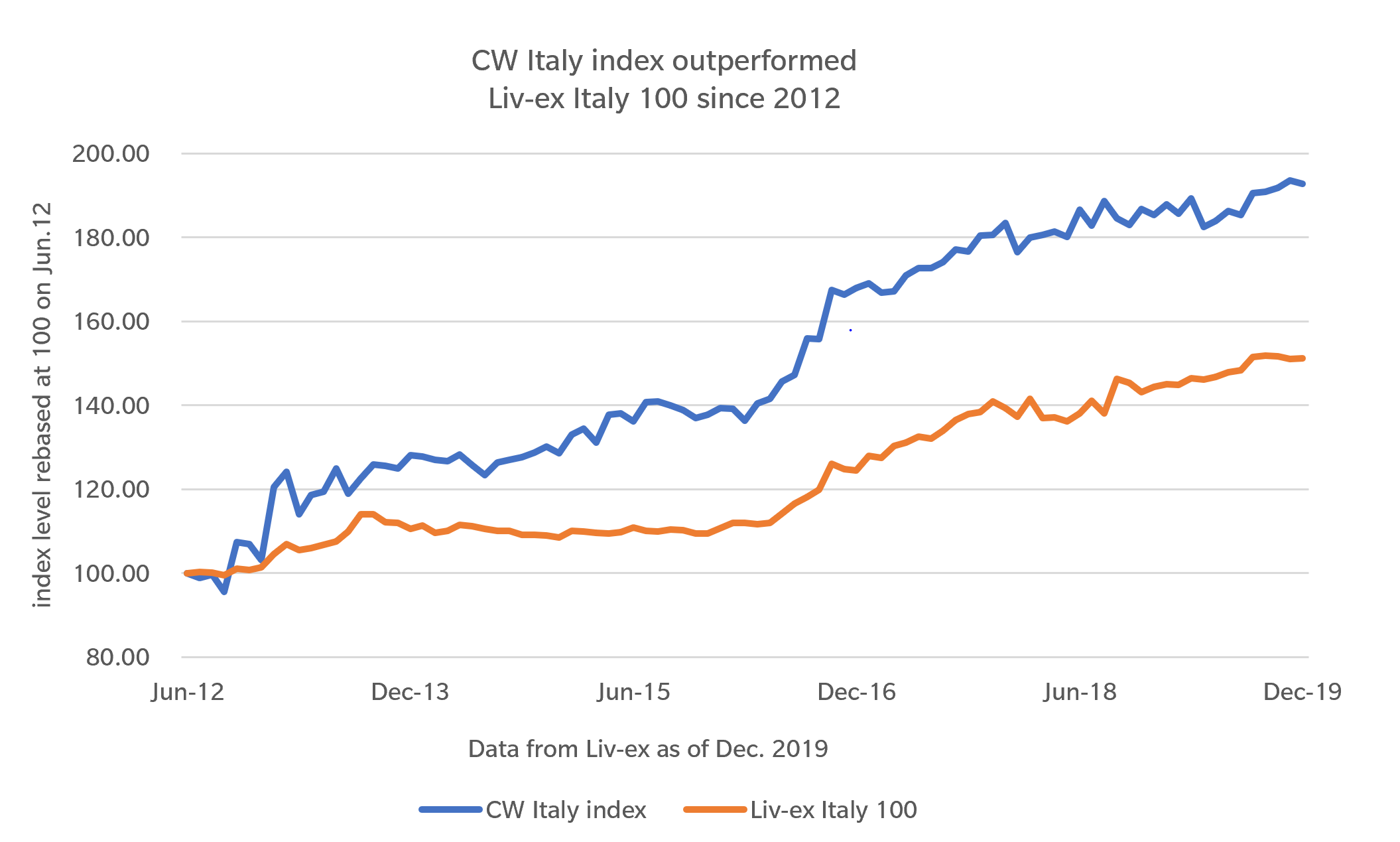 Brunello's Fairy tale Vintage
"Fruit has never been more beautiful than it was in the picture-perfect 2015 vintage" – The Wine Advocate
"2015 vintage is a historical year for Brunello di Montalcino that nobody should miss" – James Suckling
Everyone's raving about the quality of the latest Brunello 2015 release. 2015 has turned out to be another superb vintage for Brunello di Montalcino and a number of the brand-new releases sit at a significant discount to their back-vintage rival- the top scoring 2010. Historically, the wine market appetite in exceptional vintages for Brunello is very strong. Siro Pacenti Brunello di Montalcino Vecchie Vigne 2015 was awarded 100pts and also named James Suckling's Wine of the Year in 2019, with a further 11 wines from Brunello 2015 included in the Top 100 Wine list.
These wines are characterised by low production, however they remain well-priced, and therefore offer investors an exceptional point to price ratio.
Our first recommendation of Casanova di Neri Tenuta Nuova 2015 sold out within 24 hours.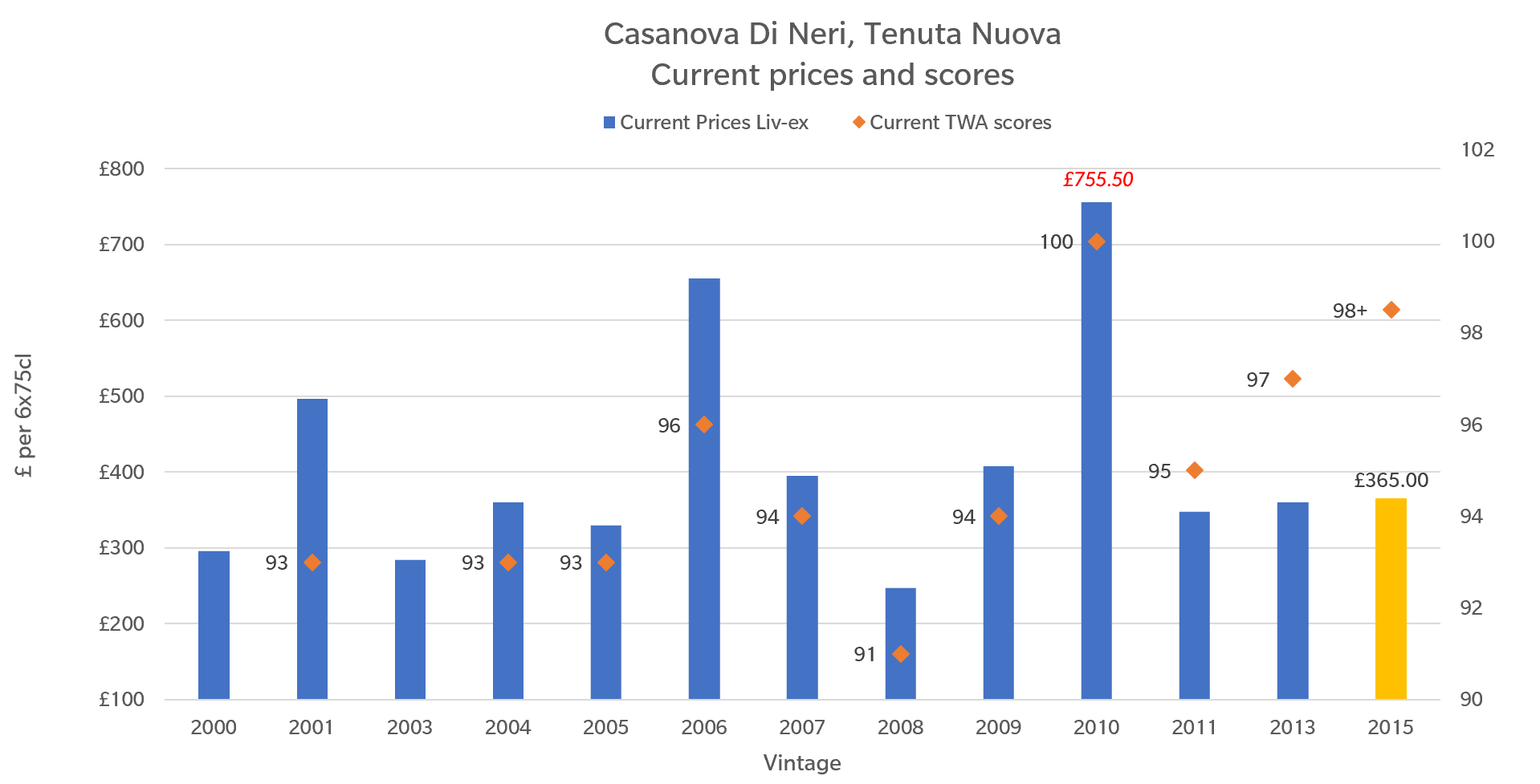 Summary thoughts from Italian Wine Specialist Andrea Marino

"Brunello 2015 is set to be one of the finest vintages on record. After a perfect growing season, producers managed to harvest immaculate fruit and have bottled gorgeous, lifted, and concentrated Brunellos. Tasting samples have proven to be not only promising but I conclude that the latest release is the finest expressions of Sangiovese for quite some time."
What are the critics saying about Brunello 2015?
The Wine Advocate, Lisa Perrotti-Brown
"This is a standout group of new releases from Montalcino. What impresses most about 2015 is the consistently high quality delivered across the board. As a whole, the wines are homogenous and uniform in terms of their intensity, depth and generosity. House styles may differ from producer to producer, but these wines are united by the energy, exuberance and radiance that come naturally to a beautifully warm and sunny vintage like 2015. That distinctive vintage signature is applied evenly across the board, leaving no wine untouched by its magic."
James Suckling.com, James Suckling
"It's Tuscan regions like Brunello di Montalcino that lead the way... And it certainly helps that the 2015 vintage is the greatest ever for Brunello and a new benchmark for Italian wines. In total, we included a dozen Brunellos in our list of the world's Top 100 wines in 2019."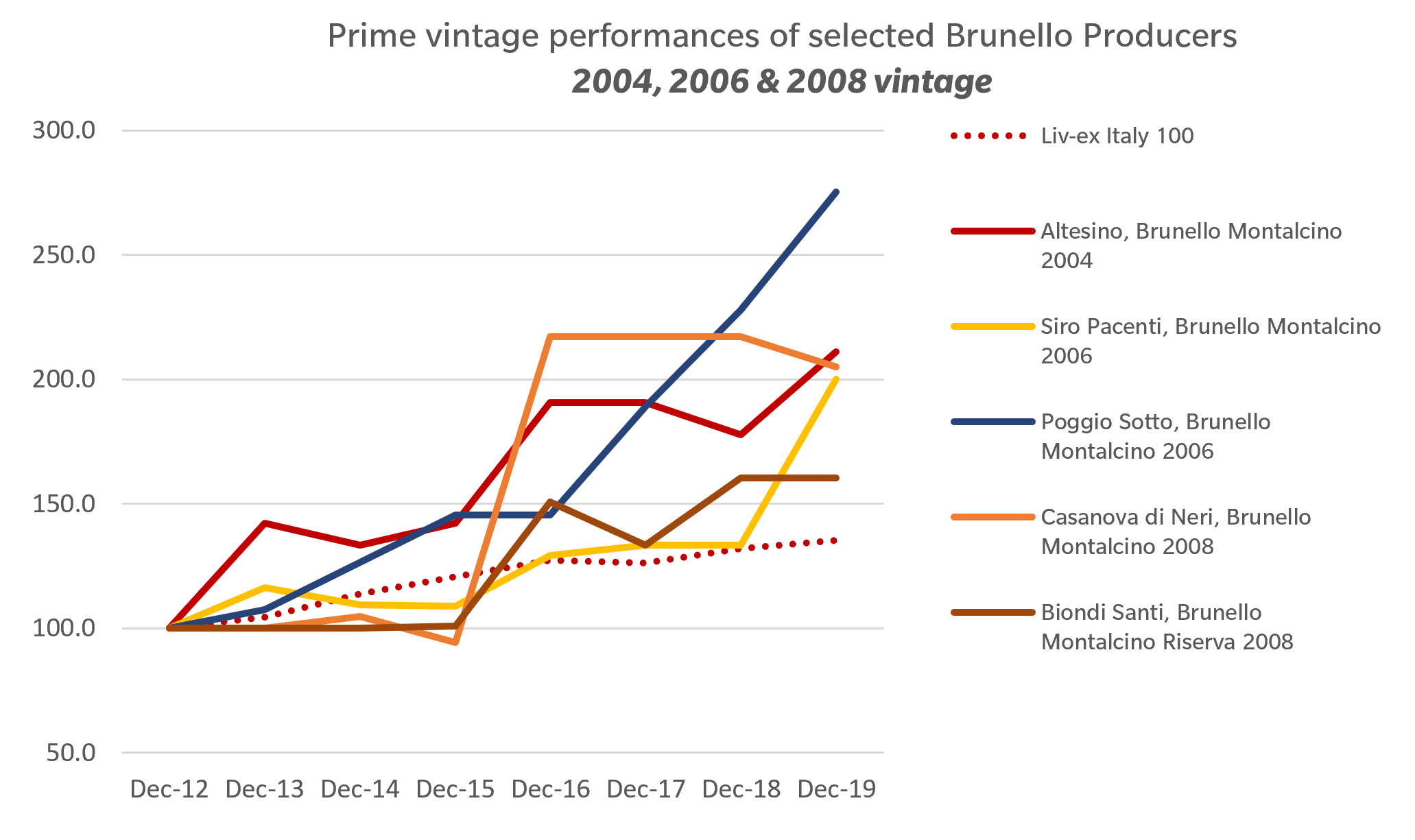 Barolo's Golden Age
"I know terms like 'golden age' are used and overused, but as I consider the current scene and look back at the last decade, the vintages spanning 2007 through 2016, there really is no better way to describe Piedmont today" Antonio Galloni.
Barolo is the next region to explode in a similar way to Burgundy. Characterised by miniscule production (think 100s not 1000s of cases), single vineyards, high-scores and a cult following for select producers. Some of the most obvious names, such as Giacomo Conterno and Bruno Giacosa have already seen their price rise significantly. In 2019, Liv-ex reported that nine out of the 10 biggest risers in its Italy 100 index came from Piedmont.
Since 2014 our own CW Piedmont Index is up 112% - the wider Liv-ex Italy 100 index is up 39% over the same period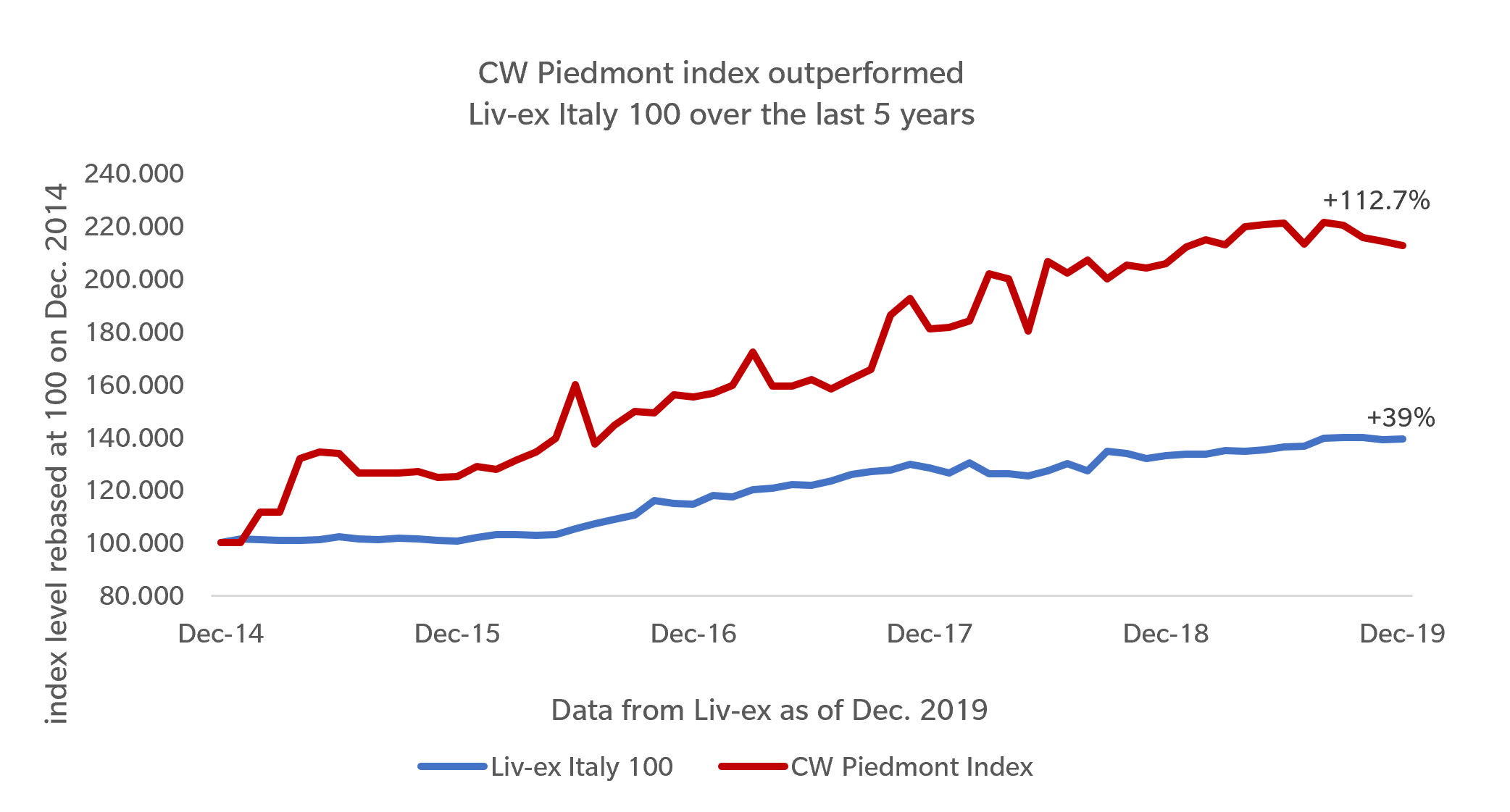 Much like the 2015 vintage for Brunello, 2016 is a benchmark vintage and many winemakers believe that it will eclipse the top-rated 2010s.
There's also a re-score angle in play here as Galloni, who has been effusive in his praise of the vintage, is yet to score all of the producers on our target list (below).
Cult Wines Italian Wine Specialist Andrea Marino:
"When we tasted wines from the vintage, what was noticeable was the incredible balance and body weight, with an unmatched vineyard-expression. This has created a truly incomparable array of wines to any previous vintages, allowing winemakers the greatest chance to produce the vintage of the century.
A number of producers have banked 10 + years of honing with their own style and with latest technological advances and knowledge of the terroir, they were able to bottle wines of great purity, far better than the acclaimed 2010, with a great growth potential.
For investors with long-term horizon, choosing the right vintage has always been the key to secure steady returns. We compared the long-term performance of selected Barolo producers below: the result shows that the highly acclaimed vintages (e.g. 2004, 2006 and 2008) consistently generated returns over the longer term. There is also some further return potential for some of the up and coming producers."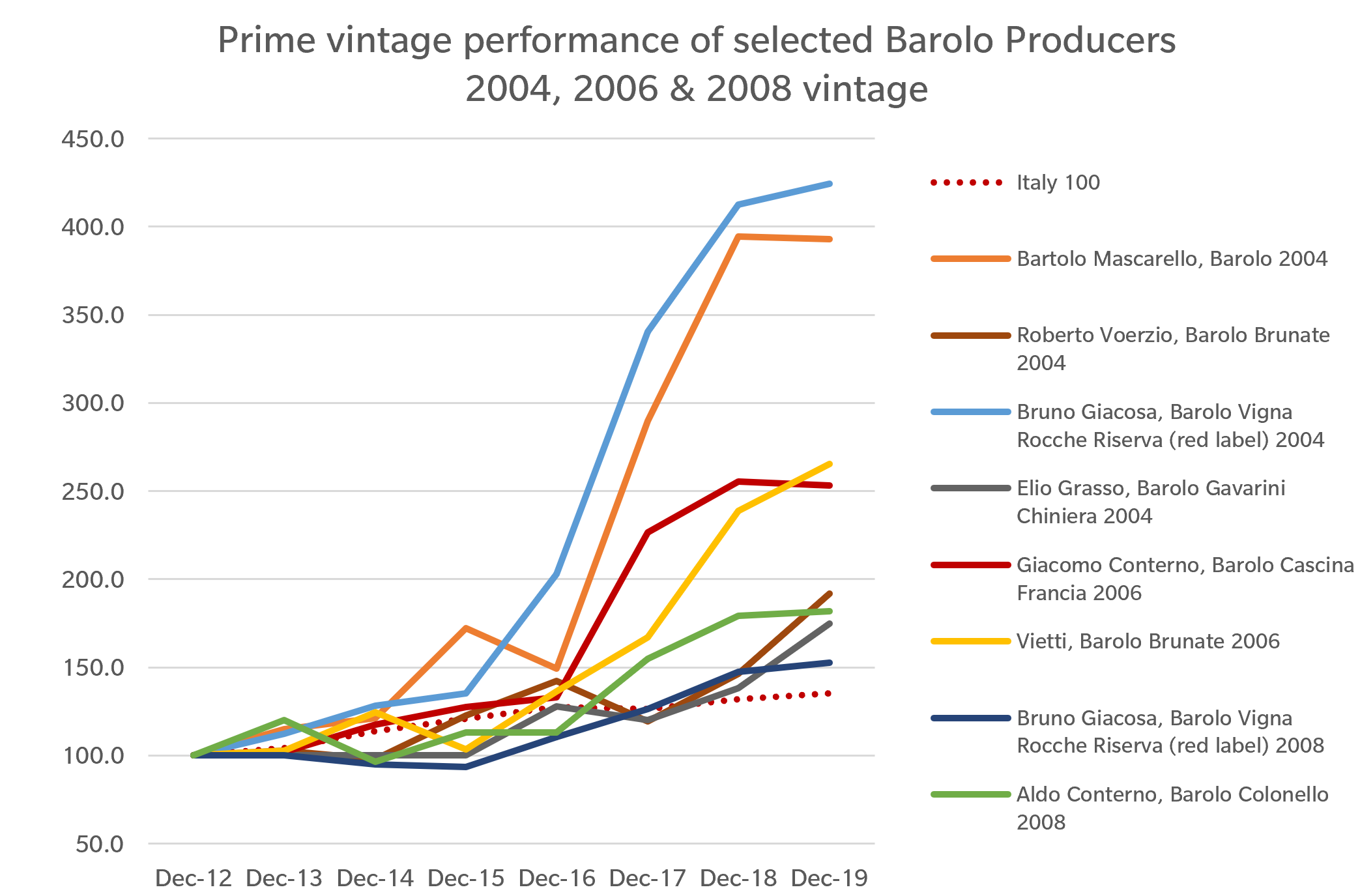 What are the critics saying about Barolo 2016s?
"In so many ways, 2016 is all about being in the right place at the right time for Barolo. An ideal growing season with all the prerequisites for a great vintage comes at a time when so many winemakers are in their primes, past the stage of experimentation and settled into their own personal styles. The result is a vintage full of truly spectacular, breath-taking wines that captures all the pedigree that Nebbiolo and Barolo are capable of." - Antonio Galloni
"For many growers, the 2016s are not just epic, they are career-defining wines. Chiara and Giorgio Boschis at E. Pira, Maria Teresa Mascarello, Fabio Alessandria at Burlotto and Luca and Elena Currado at Vietti are among the producers who made breathtaking wines of the very highest level. But 2016 has a ton of depth from top to bottom. So many of the entry-level bottlings are fabulous, always a sign of an important vintage" - Antonio Galloni
Investment Case Study
In light of the unprecedented quality of the 2016 Barolo vintage we anticipate a number of high-scoring wines. A case in point; E. Pira & Figli Chiara Boschis Via Nuova, Barolo 2016 was released a few weeks ago and at the end of February was awarded the perfect 100 points by Antonio Galloni. Over the past two weeks, the price has jumped from its release price of £588 to over £1200 (per 6 bottles) with supply disappearing fast. A wine that we believe has the potential to follow this trajectory is Vietti, Barolo Rocche di Castiglione 2016.
Antonio Galloni, by far and away the most influential critic when it comes to Northern Italy, is yet to award his full list of scores. Considering the quality of the vintage and current appetite for Italian wines from both investors and consumers, we expect increase in prices for the best scored wines to be more frequent.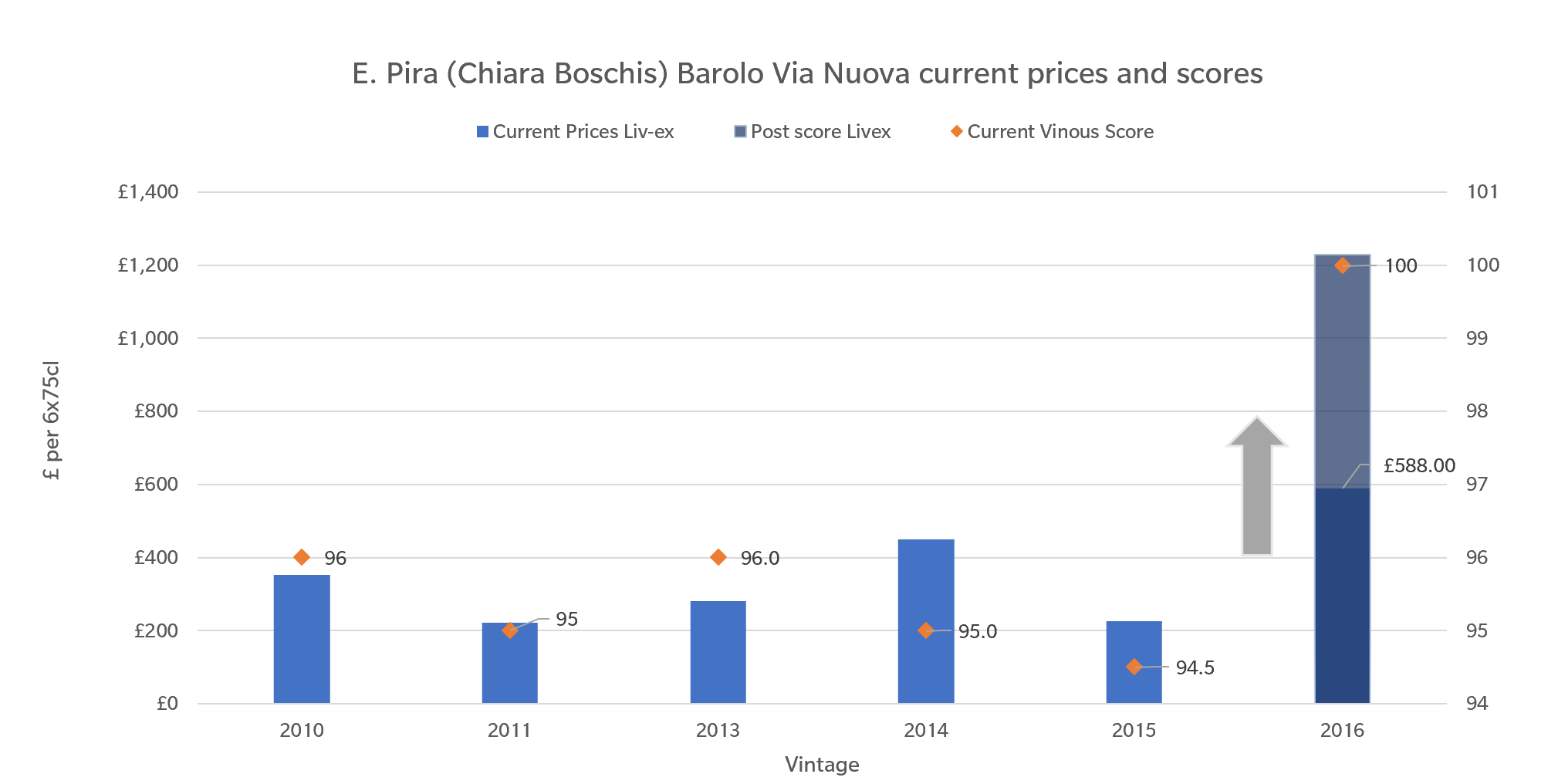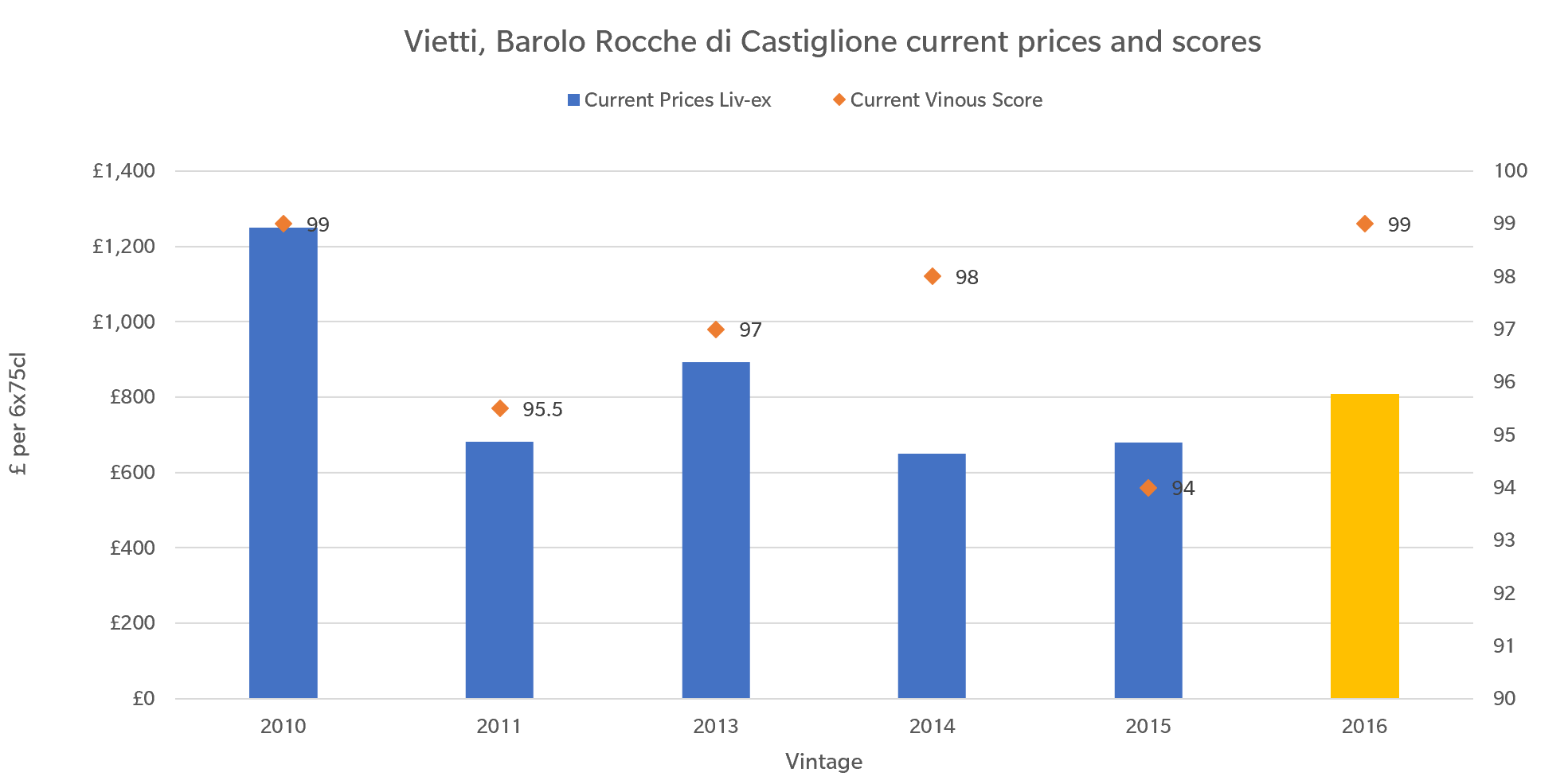 Barolo Target Producers

Bartolo Mascarello
Ceretto
Aldo Conterno
Giacomo Conterno
Bruno Giacosa
Elio Grasso
Giuseppe Mascarello
Massolino
Guiseppi Rinaldi
Paolo Scavino
Viett
Roberto Voerzio
Gaja
Sandrone
Burlotto
E. Pira
Roagna
Vajra

Brunello Target Producers

Casanova di Neri
Il Marroneto
Siro Pacenti
Biondi Santi
Il Poggione
Soldera
Poggio di Sotto

Conti C

o

stanti

Altesino

Pieve Santa Restituta 'Sugarille'