September's new releases from Chile and Argentina include some of the top wines and more interesting investment opportunities of the second half of 2021. The releases come during a boom time for fine wine markets that covers both core European regions and less-established up-and-coming regions. The Liv-ex's Rest of World 60 index is up 10.6% so far in 2021, the top performing regional index.
But South American wines still lie outside the ROW60 and other Liv-ex indices, which we think makes them an intriguing growth market. Over the past three years, Cult Wines' selections among Chilean wines have returned 44%, outstripping the still-healthy returns from new world regions of California and Australia.
And this is no coincidence. Dedicated investments from some of the biggest names in wine from around the world have boosted both the quality and international prestige of several South American wineries in the past decade. This fantastic quality is on display in several of the new South American releases. Here, using a select approach, we delve into a few of the new releases and analyse their outlook for growth.
Chile – Chilean wine has seen something of a revolution over the past two decades. New investments from home and abroad saw modernisations of wineries that had remained unchanged for decades. Results quickly followed in 2004 when three Chilean wines came in the top five (#1 - Viñedo Chadwick 2000, #2 Seña 2001, #4 Seña 2000) against top name Super Tuscan and Bordeaux wines at the so-called 'judgement of Berlin.'
Chile is now known for excellent Cabernet Sauvignon, Merlot and Syrah. Chile also benefits from an important point of differentiation with the Carmenère variety. It was only during the viticulture improvements in the 1990s that Chile's Carmenère vines were identified, previously assumed to be Merlot. This old Bordeaux variety has since found a home in Chile and brings distinct fresh, spiced aromas often with a mint-like edge.
Many leading critics are enthusiastic about the 2018 vintage in Chile with the 2019 also highly regarded. This bodes well for the investment potential of the current crop of new releases.
Clos Apalta
The quality of Clos Apalta shot up with the 2015 vintage. With a 96-point Wine Advocate score, the 2018 is the fourth consecutive vintage of at least 95 points and equals the highest ever rating for a Clos Apalta wine. However, prices have yet to recognise this trend, meaning these recent vintages hold considerable appreciation potential, in our view.
The new 2018 came broadly in line with the current market prices of Apalta's back vintages irrespective of the significant uptick in critics scores (see below chart). As the global market continues to wake up to the consistent high-quality on offer in up-and-coming regions such as Chile, wines like Clos Apalta should receive their due attention with 2018 and other recent vintages delivering long-term gains.
Clos Apalta Relative Value Analysis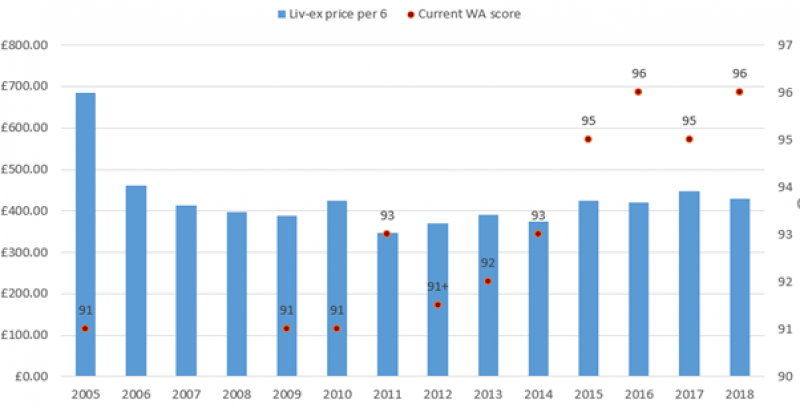 Source: Liv-ex as of 08 September 2021
Almaviva
The 2019 Almaviva is another producer where we think prices have yet to fully account for the recent string of excellent wines. The 2019's WA score of 95+ points rivals the standout 2018's highest-ever 96-point score.
Almaviva wines tend to appreciate the with age, as shown the below chart, with most of the growth coming after the five-year mark. This emphasizes that Almaviva is a long-term investment. We expect the high quality of the 2019 wine (and other recent high-scoring vintages) to boost this potential as the wine's power and depth certainly set it up for a long lifespan.
Almaviva vintage price performance (rebased at 100 upon release)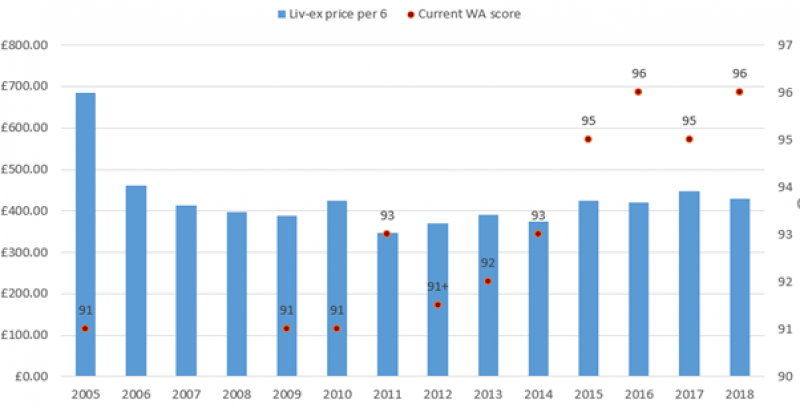 Source: Liv-ex as of 08 September 2021
Seña
This 2019 Seña has all the ingredients for an investment wine. Its 98 points matches its highest-ever WA score and production levels are reportedly down 5%-10%, adding scarcity value. It also marks the 25th anniversary of the first ever Seña in 1996, which can boost demand from investors and collectors.
The £501 (6x75cl) UK RRP comes slightly above the current market prices of recent vintages but this could become one of the most sought-after Seña wines with scarcity increasing with time as supplies are consumed.
Argentina – A number of trends in Argentinian wine are helping the country cast off its image of mass-produced 'over-the-top' Malbecs in favour of a select group of excellent quality, nuanced wines that compete with leading names around the world. More growers are focussing on the importance of individual terroirs rather than aiming for a generic style of 'Mendoza' or 'Valle de Uco' Malbec. Many producers are also emphasizing organic and biodynamic methods in an effort to magnify terroir characteristics and preserve freshness.
As a result, Argentina's flagship grape Malbec along with Bordeaux varieties, especially Cabernet Franc, are producing some special wines. Many sites benefit from old vines with Jancis Robinson reporting that nearly a third of vines are over 40 years old.
The country's wines offer intriguing investment potential as, like Chile, critic scores are trending higher, and a global audience is catching on to the excellent, distinct wines of the best producers.
Cheval des Andes
Argentina's 'Grand Cru' is a joint venture between Bordeaux's Cheval Blanc and Argentina's Terrazas de Los Andes. This partnership brings both the winemaking expertise as well as brand recognition, making Cheval des Andes one of the most investable wines in Argentina. The new 2018 has yet to be scored by Wine Advocate but the chart below shows consistent high quality in recent years.
Prices remain similar or below the wines from around 2010, meaning the 2018 and other recent high-scoring wines should deliver healthy gains as they mature.
Cheval des Andes Relative Value Analysis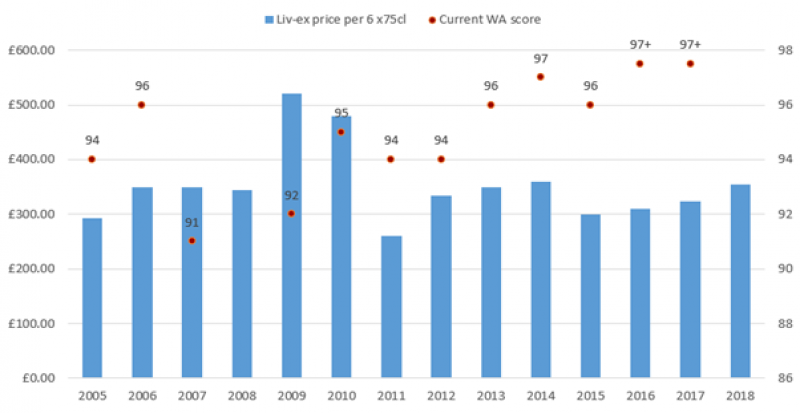 Source: Liv-ex as of 08 September 2021
Nicolas Catena Zapata
Echoing the classic Bordeaux style with its Cabernet Sauvignon and Malbec blend, the 2018 Nicolas Catena Zapata wine achieved a score of 96 points from Wine Advocate, equalling its highest ever mark in the last 10 years.
The 96-point 2013 vintage currently trades at £513 (6x75cl) on Liv-ex, meaning the new release at £318 has plenty of room for onward appreciation. This Bordeaux blend offers Bordeaux-like long-term investment potential!
Nicolas Catena Zapata Relative Value Analysis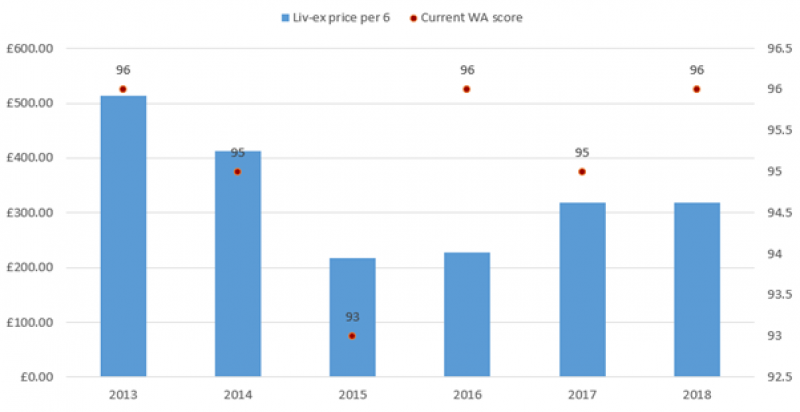 Source: Liv-ex as of 08 September 2021